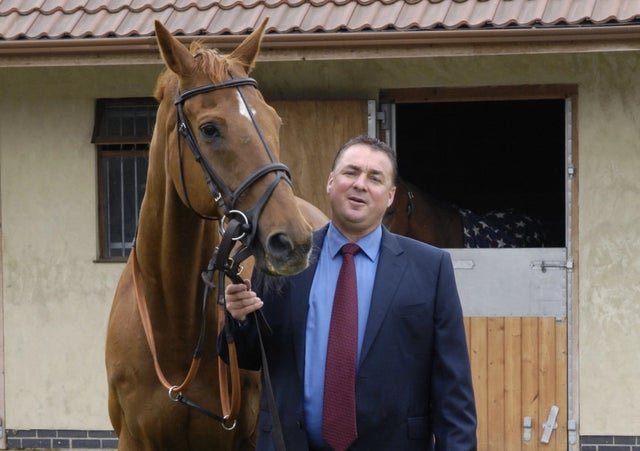 ch g by Gunner B out of Cover Your Money (by Precipe Wood)
Foaled: 4th March 1990
Breeder: Mrs D Jenks
Races: 20, Wins: 9
Trainer: Norman Mason
Owner: Norman Mason
Red Marauder Thoroughbred Horse
Owned and trained by Norman Mason, Red Marauder made his debut in 1993 at Hexham in winning style. He was touched off in his next start but won again at Ayr in November. However, after a third placed run at Carlisle in 1994, Red Marauder was not seen on the track for over three years. He made a winning return at Hexham, but then missed another year through injury. Red Marauder had a reputation of being a very fragile and injury prone horse, and lengthy periods off the track were the norm. However, Mason kept faith when many others would give up, and his patience was rewarded.
Red Marauder returned to the track in 1998 to reel off a hat trick, including the First National Bank Gold Cup at Ascot. He then missed another year and returned at Wetherby to take the John Smith's Handicap Chase. He was next sixth in the Racing Post Chase to the late Gloria Victis
The gelding's first taste of Aintree was not a good one, as he fell in the Grand National of 2000 behind Papillon. He then ran tenth in the Irish National before winning over timber at Market Rasen. Norman Mason said "We decided to bring him back over hurdles because he was well-treated, not having run over hurdles for a few years. But he'll go back chasing this autumn, and the race that used to be run as the Budge Gold Cup at Cheltenham would be a likely target."
Continue reading about Red Marauder
Red Marauder kept good company throughout Autumn 2000, running in the Thomas Pink, the Hennessy Gold Cupand the Tripleprint, before finishing second at Cheltenham in the Ladbroke Trophy Chase. However, he fell at the first fence next time in the De Vere Gold Cup at Haydock behind Flying Instructor.
Red Marauder's finest hour came in anamazing Martell Grand National at Aintree after just two horses finished the course without remounting. Richard Guest steered the 11-year-old through the carnage as tired and loose horses caused havoc at the formidable obstacles. The 33/1 shot came home a distance clear of Smarty, trained by Mark Pitman, with the remounted pair Blowing Wind and Papillon in third and fourth.
Admidst scenes of jubilation, Mason said: "Absolutely fantastic, what a race. I've never seen a race like that in my life, not in my 25 years in racing. He seemed to be enjoying himself out there, his ears were pricked like a real old veteran."
And Mason was full of praise for Guest, who is also his assistant trainer. "He's a miracle worker and I love him to death!" he said. "It would never have happened without Richard Guest. He does everything for me at home, I don't know where I'd be without him. All the credit goes to Richard."
Guest said: "I've never run in worst (ground). We were really lucky to get away with it, I was in two minds whether we should have gone out there. He nearly fell five times but he wouldn't go down."
Only 12 horses made it through the first circuit with many of the runners claimed in a Foinavon style pile-up at the Canal Turn. The riderless Paddy's Return, who fell at the third, was wide on the track when he decided to run along the fence into the path of the other runners prompting memories of 40 years ago when only Foinavon avoided the trouble.
Loose horses and the heavy ground took their toll on the remaining runners and by the time they took Beecher's Brook for the second time just Red Marauder and Smarty remained in contention. As the pair approached the Canal Turn for the second time there was so nearly a repeat of the first circuit when a loose horse veered across the duo. But Guest had the prescence of mind to weave past the danger. Timmy Murphy appeared to be travelling much the better on Smarty, but the petrol ran out going towards the second last and Guest was able to coast past the post furlongs clear on Red Marauder.
Behind the pair, the jockeys of the fallen horses frantically tried to catch their horses and remount. The only ones to succeed were Tony McCoy on Blowing Wind and Ruby Walsh on last year's winner Papillon. Blowing Wind eventually finished third at 16/1 with Papillon fourth at 14/1. After all the carnage everyone was relieved to hear all 40 horses had returned to the stables unscathed.