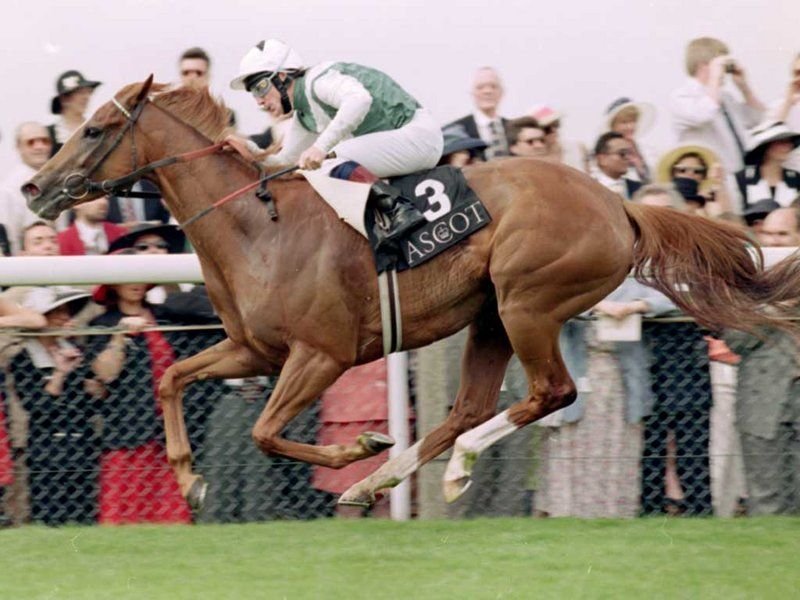 ch m Woodman – Korveya (Riverman)
Races: 10, Wins: 7
Foaled: 28 Feb 1993
Trainer: Henry Cecil
Owner: Wafic Said
Form: 11 / 11211 – 134
Bosra Sham Thoroughbred Racehorse
Bosra Sham was one of the great fillies to grace the turf. A sister to Hector Protector, champion juvenile in Europe in 1990 and half-sister to two winners including Shanghai, high-class Group 1 winner in France, on breeding she was always likely to be very special. Her dam, Korveya, was a half-sister to smart sprinter Proskona, out of 1000 Guineas runner-up Konafa, a 1m/1m 1f winner.
She will go down in the record books as a filly who was as brilliant as she was brittle. As long ago as Newmarket in May 1995 there was a sense that her every appearance on the racecourse was something that had to be delivered with delicate precision.
Put simply, she has suffered from shallow feet, which seems to have made her more susceptible to bruising and has made it necessary for her to wear plastic adhesive shoes. This, in turn, caused problems, as was shown when she lost a shoe when beaten in the Juddmonte International last time out.
Continue reading about Bosra Sham
But while her feet were made of china, Bosra Sham had an engine constructed of solid gold. Way before she made her winning debut at Newbury, Bosra Sham had been touted as something special. In fact, her qualities were evident before she even set foot on the gallops, let alone on a racecourse.
Well-known sales consignor Ted Voute, who was given the task, or should that be privilege, of preparing her for the yearling sales, will never forget the first time he saw her. He had driven to her breeder Gerald Leigh's Northamptonshire stud, Eydon Hall Farm, to look at the daughter of Woodman and the Riverman mare Korveya, with a view to consigning her at the 1994 Tattersalls Houghton sales.
Voute had seen plenty enough yearlings in his career to recognise that the filly led out in front of him was a jewel, a star. Easily the best-looking yearling he had ever seen, he readily admitted.
Those congregated around the Tattersalls' sales ring one expectant night in October happily agreed. Wafic Said's racing manager Tim Bulwer-Long nodded last, and longest, at 530,000gns, and Bosra Sham had earned the title of highest-priced yearling in Europe that year.
After a runaway debut victory under Michael Kinane at Newbury, Bosra Sham cruised home to land the Fillies' Mile at Ascot, just a day after Sheikh Mohammed had implicitly criticised the influence of her trainer Henry Cecil's wife Natalie on the running of the Warren Place yard. It seemed inconsequential at the time, but Bosra Sham's two-year-old career should have included a run in the May Hill at Doncaster but for a bruised foot.
She was devastating on her three-year-old debut at Newbury in the Fred Darling before a gutsy win in the 1,000 Guineas. Her foot was once more badly bruised and bleeding after that run and she did not race again until the Queen Elizabeth II Stakes in September.
It was some performance to pull clear of First Island and Charnwood Forest at the finish, but on that day she had to settle for second behind an unstoppable Mark Of Esteem. Over 10 furlongs in the Dubai Champion Stakes, it was Bosra Sham's turn to be unstoppable, beating another Godolphin representative, Halling.
And so to the 1997 season. She was slightly ring-rusty, but nonetheless authoritative when winning on her debut at Sandown, beating Predappio. This was the first time she had been partnered in a race by Kieren Fallon. It was a much less eventful outing than the next time the pair were to team up at the same course.
There was a demolition performance in the Prince of Wales's Stakes next time out at Royal Ascot when Bosra Sham and Fallon slammed Alhaarth by eight lengths. So categoric was that victory that the belief soon developed that nothing could beat Bosra Sham in her next start, the Coral-Eclipse. Nothing, that is, except her jockey.
Starting a 4-7 favourite to beat Derby winner Benny The Dip and Breeders' Cup Turf winner Pilsudski, this was a race in which little went right. The euphoria of Royal Ascot, when Henry Cecil described her as the best he had trained, was poles apart from the mood on Bosra Sham's return to the unsaddling enclosure. She had finished third after struggling for a clear run at a crucial stage. Cecil was devastated and, while not personally criticising Fallon, made it clear where he felt the blame lay. Owner Wafic Said was more direct; Fallon was jocked off Bosra Sham, and Pat Eddery returned to ride at York.
The Juddmonte International Stakes marked a disappointing end to an often dazzling career when she finished last of four behind Singspiel, Desert King, and Benny The Dip.
Her class and ability remain, however, uncontestable. The sporting decision of her owner to keep the filly in training at four is another case for plaudits.
But what must not be forgotten is the brilliant care of Henry Cecil. An outstanding training performance with an outstanding filly.
In February 1999 it was announced that Bosra Sham had given birth to a colt foal by Rainbow Quest. With white socks on his back legs he has the look of his mother. The colt was christened Shami and is currently running in the colours of Sheikh Mohammed, but has not yet managed to scale the heights of his dam despite winning a couple of races. However, her second foal, by AP Indy, passed through the ring at Keeneland in September 2002 for £1,500,000! We will see how he fares when he reaches the track.