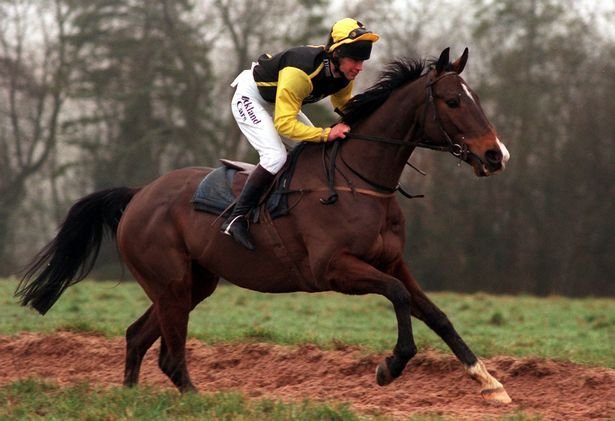 b g 1988 Celtic Cone – Win Green Hill
Races: 41, Wins, 10
Foaled: 1 April 1988
Breeder: RP Fry and Jim Old
Trainer: Nigel Twiston Davies
Owner: The Summit Partnership
Earth Summit Thoroughbred Horse
Earth Summit has been one of the leading chasers of the 1990s. Foaled in 1988, he was the son of Celtic Cone out of Win Green Hill. Known by his stable name of Digge, Earth Summit was bought six years ago for a bargain £5,800 by the Summit Partnership. His first success came at Chepstow in 1993 over timber. However, his real talents were realised when he switched to fences. He scored in November of the same year in novice company at Haydock Park, and again back at Chepstow the following year. He was on the mark again at Cheltenham in January 94 taking the Steel Plate And Sections Young Chasers Qualifier Novices Chase, beating Lo Stregone. By now he was keeping very good company. He was not upto the task of Grade 2 company quite yet though and was pulled up in the Reynoldstown Novices Chase behind the ill-fated One Man. However, connections still aimed high and the Sun Alliance Chase at the Cheltenham Festival was Earth Summits next race. A 66/1 shot, he was able to finish only seventh to another now fallen hero, Monsieur Le Cure.
However, Digger bounced back in style in April 1994 taking the Scottish Grand National at Ayr. His defeat of Bishops Island was his biggest win so far, and the handicapper ensured life would be tough from then on by raising him 16lb. However, Earth Summit was soon back to winning ways and got his head in front at Cheltenham in November. However, he fell on his return to the course a month later.
In January 1995 Earth Summit took the Peter Marsh Chase at Haydock Park, a Grade 2 victory where he was chased home by Chatam. This was to be his last win for a while, and some disappointing runs followed, noticably when a distant fifth when favourite for the Hennessy Gold Cup in November. In 1996, at Haydock in the Grand National trial tragedy struck. In a crushing fall, Earth Summit damaged a ligament and the owners were told he might survive but would never race again.
Continue reading on Earth Summit
The injury kept him off the track for a while, but eventually he was nursed back to health and in December 1997, back at Chepstow Earth Summit was in the money again. This time he added the Welsh Grand National to his list of wins, beating the brave little grey Dom Samourai, by two lengths. Poor runs inthe Peter Marsh and the Greenalls followed his win, but amends were made at Aintree in April 1998 in the Grand National where he beat top-weight Suny Bay by 11 lengths after a desperate slog in the Liverpool mud. Samlee was third and St Mellion Fairway fourth.
Only six of the 37 runners finished the race, which was run on heavy ground. Earth Summit was always travelling sweetly for Llewellyn throughout the four-and-a-half mile trip. But it was French challenger Ciel de Brion, partnered by teenager Thierry Doumen, and Greenhil Tare Away who made the early running. When they both perished in quick succession on the second circuit, it developed into a two-horse race.
When the 1996 winner Rough Quest faltered it was left to Suny Bay and Graham Bradley to loom up to Earth Summit. The favourite always appeared to be going slightly the better of the two. And when Llewellyn kicked for home as they turned into the straight it proved to be the decisive moment. Suny Bay, anchored by his welter burden of 12 stones, could not answer and Earth Summit drew away to score comfortably. Samlee was a distance behind Suny Bay in third, while St Mellion Fairway plugged on to be fourth.
The other finishers were Gimme Five who took fifth and Killeshin. The field had been whittled down from the first fence with four horses, including the well-fancied Banjo falling immediately. "This is an amazing feeling – just as good second time around," said winning jockey Llewellyn, successful on Party Politics in the race in 1992.
Llewellyn only got the ride after regular jockey Tom Jenks broke a leg in a fall. He added: "I did think beforehand that the conditions had come in our favour which meant we had a great chance. I just wanted to make sure we kept out of trouble and he jumped his fences superbly. He made one mistake at one of the ditches but apart from that he popped away brilliantly. Three out Brad turned round to me and said the pair of us were 30 lengths clear. I was worried when we got to the Elbow that they were going to swallow us up but I suppose the weight began to tell. I feel sorry for Brad as his horse has run a great race under 12 stones."
Winning trainer Twiston-Davies just about broke his rule of not giving post-race interviews, saying: "This is great but I won't be doing another interview until we win the Cheltenham Gold Cup!"
Earth Summit's owners, together with assistant trainer Peter Scudamore, were planning a champagne celebration at the Hollow Bottom pub in Temple Guiting near the trainer's Grange Hill Farm stables at Naunton, Gloucestershire. Co-owner George, was full of praise for Llewellyn's ride.
"Carl rode one of the most fantastic races I've ever seen in my life. He stayed right out of trouble and kicked for home at exactly the right time," said George. "I just can't believe it – I was crying my eyes out at the finish."
Co-owner Payne meanwhile was stunned to be in the winner's circle as the successful owner. "It feels very strange to be here in this capacity – I've somehow got to remember that I've got a job to do!" he exclaimed. The winning horse provided thousands of punters with a bonanza payout. Earth Summit horse was backed down from 12-1 to 7-1 since Friday afternoon as the wet weather continued.
After his Grand National win, Earth Summit returned to Aintree in November to tackle the Becher Chase, again over the massive National fences. He made no mistake again and took the race 16 lengths in front of Samlee. In december 98, Earth Summit ran a good race at Haydock in the Tommy whittle, this time his Aintree conquest Suny Bay turned the tables and finished 3 lengths in front. However, from that point on the sparkle seemed to vanish and life became harder for the 98 National hero. He was pulled up in the Welsh Grand National at Chepstow, then well beaten in the Peter Marsh at Haydock and could only manage 8th on Bobbyjo's Grand National.
The new season fared no better with distant fifth place in the Becher Chase. However, connections set out for the Welsh Grand National at Chepstow with great expectations after some encouraging homework and a flawless preparation. But following some early scrimmaging, which left the 11-year-old at the rear of the field, Nigel Twiston-Davies' charge could never get back into the heart of the action and trailed in a distant last behind Edmond.
Nigel Payne, a member of the Summit Partnership which owns the gelding, said after the race: "Earth Summit has raced 41 times and won over £350,000 in prize-money, so he owes us much less than nothing.
"Our biggest consideration now is the welfare of the horse. Although he still seems to be enjoying his racing, we have to be thinking about retiring him at the end of this season.
On 17th January it was announced that Earth Summit was to be retired and will be looked after by his stable-lass Marcella Bayliss.
Part-owner Nigel Payne said: "Nigel phoned me at around 8.30 on Saturday morning and told me he had discovered a little bit of swelling in his off-fore. "It was nothing serious – not like the suspensory on his near-fore he injured in the Greenalls at Haydock in 1986 – but enough to stop him running in this year's Grand National, which was due to be his last race anyway.
"There wasn't a shadow of doubt what decision we would make because it would have been inconceivable to bring him back after a long recuperation period and try and win the Grand National at the age of 13. It is disappointing he can't go out at Aintree, where he relished jumping round."
"We bought him for 5,800 guineas at Doncaster sales in 1992," Payne recalled. "He won nine chases, including the Peter Marsh, Scottish Grand National, Welsh National and Grand National, and one hurdle race – you can't ask for much more.
"Marcella Bayliss has looked after Earth Summit virtually from the day he arrived at Nigel's and is one reason why he has been such a well-balanced, happy horse and I know he will be well cared for in his retirement." Earth Summit will return to the scene of his greatest triumph this spring as Payne explained: "He'll be back at Aintree in April for the Grand National parade of champions."
Twiston-Davies paid tribute to the bay son of Celtic Cone. He said: "He was a very good horse, who has certainly done us proud. He won the three different Nationals, which no other horse has done and hopefully he'll keep us in the record books for some time. He was an easy horse to train, his injury problem at Haydock was a one-off. He's a kind, gentle, laid-back type of horse – a nice horse. He'll spend his retirement just half a mile down the road from here."
And Llewellyn echoed the trainer's views. "He gave me one of the big thrills of my life and would be one of the best jumpers I've ridden. When I rode him at Aintree it was the first time I'd sat on him for four years and he was very good round Liverpool. And like Party Politics I have a lot to thank him for – I will be forever in his debt."
Latest: Racing Post 23/03/05
Earth Summit put down at 17
by Robert Pratt
EARTH SUMMIT, the only horse to have completed the National treble, was put down on Wednesday after being diagnosed with cancer.
The gelding, who was trained throughout his career by Nigel Twiston-Davies, won the Grand National in 1998 having won the Scottish and Welsh versions in 1994 and 1997 respectively.
A comparatively sprightly 17-year-old, Earth Summit started to lose condition about two weeks ago and following scans, was discovered to have cancer in both his liver and spleen
He was put to sleep to avoid any suffering.
Nigel Payne, on behalf of the Summit Partnership, which owned the gelding, said: "Since his retirement in 2000, Earth Summit has had a wonderful life, being stabled by Marcella Bayliss, who had looked after him since he joined the Nigel Twiston-Davies yard in 1992.
"He, and the many that rode him, had some wonderful days hunting and he made many public appearances including the Parade of Champions at Aintree on Grand National day where he had been scheduled to go next month."
Payne continued: "On behalf of our partnership I would like to pass on our deepest gratitude to Peter Scudamore, who acquired Earth Summit for us, to Marcella Bayliss for her undying affection and care for him, for our main jockeys, David Bridgwater, Tom Jenks and Carl Llewellyn, and most importantly to Nigel Twiston-Davies, who trained him so brilliantly and caringly and who brought him back from a career-threatening injury at Haydock to win both the Welsh National and Grand National some 16 months after the injury.
"As to Earth Summit himself, no six individuals could have dreamt of owning such a beautiful, brave animal. His courage was unbelievable and he rewarded us with nine wins and amassed close to £400,000 in prize money.
"Apart from his three Nationals, his other wins, all on Grade 1 Tracks, included a Peter Marsh Chase at Haydock and a Steel Plate And Sections Final at Cheltenham.
"We will miss him greatly but have the comfort of knowing that he had a great life doing what he loved."
Twiston-Davies paid tribute to Earth Summit, saying: "He was the most wonderful horse.
"He was second in his first race and then he went on and won three Nationals, the Welsh, Scottish and Grand National and no other horse has done that so he was an exceptional animal.
"Of course the Aintree win stands out. He came back from a bad injury and did really well.
"He was a very kind, gentle and sweet horse. I had him all his racing career, since he was four, and he will be sadly missed."
Carl Llewellyn, who won four times on Earth Summit including the Grand National, echoed Twiston-Davies' thoughts
He said: "It was a sudden illness and they had to put him down.
"It's a big shame because he was a great horse. He won the Scottish National, the Welsh National and the English National which was a great feat
"He was one of the greatest National horses ever.
"He won the Scottish National on fast ground and he won the English National on heavy ground.
"He was one of the most durable horses ever.
"It's very sad because he was enjoying his retirement, it's a shame he couldn't have enjoyed it a bit longer really.
"He was a very straightforward horse to ride and very simple. He didn't like being crowded in his races but he was one of the best jumpers I've ever ridden, if not the best. "He was one of the cleverest jumpers of an obstacle and he went round Aintree four times and hardly made a mistake. He was absolutely brilliant." Recalling the 1998 Grand National, Llewellyn said: "It was one of the best feelings and he provided me with one of the best days of my life. "I've got a lot to thank him for." In a six-year career, Earth Summit ran 41 times for 10 wins, seven seconds and a third for £372,566 in prize money.