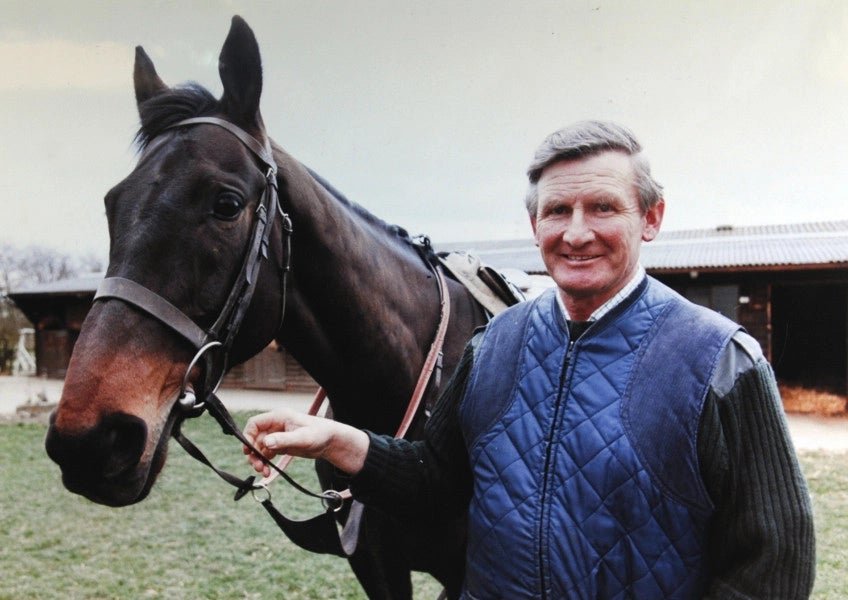 b g 1985 Crash Course (GB) – Masterstown Lucy
Trainer: Peter Beaumont
Owner: J N Yeadon
Jodami Irish-bred, British-trained Thoroughbred Racehorse
Jodami was born in 1985, the son of a meeting between Crash Course and Mastertown Lucy. He was trained throughout his career by Peter Beaumont, and won on his debut, a National Hunt Flat Race at Ayr. In his first season over hurdles, he won five of his six races, culminating in an impressive effort in the Scottish Farm Dairy Foods Novice Hurdle, which was the race run before the Scottish Grand National. His other victories that season where at Nottingham, Doncaster, Ayr(again)and Wetherby. His only defeat that term came at the hands of Robert Dear over the minimum trip at Wetherby.
Even the young Jodami showed plenty of stamina and, after that reversal, he would not be risked over two miles again. Put away after his taking Ayr success, the embryonic chaser started his second career in an egg and spoon race at Kelso, but it was not all plain sailing. Although patently better than his rivals in making a winning chase debut, Jodami jumped indifferently that day and would have to improve his fencing to fulfil his potential. He returned to the Borders track for his second start and jumped much better. Jodami was making a name for himself now and was ready for a step-up in class. His education continued with a trip to Ayr where, for the first time, he faced a decent rival in King's Curate. It was time to see what was under the bonnet. Jodami again lacked fluency at his fences but sheer latent talent pulled him through as he beat the previous year's Stayers Hurdle hero by three lengths. Sent off a hot favourite in a poor renewal for the Reynoldstown on his next start, Jodami fluffed his lines completely and, once again, jumped poorly in finishing second to Danny Harold in a three horse race. Jodami would not be seen on the racecourse for two months after that.
Extensive schooling at Mr Beaumont's reaped rich rewards, however, and, although Jodami would not win again that season, his fencing improved markedly. Sent to Aintree for the Mumm Mildmay Novice Chase, he ran the race of his life to finish second to Bradbury Star, beaten just three quarters of a length. The duo pulled seven lengths ahead of their rivals that day, and were both now regarded as serious novices.
Continue reading about Jodami
Jodami's final run of a pleasing novice campaign was at the big Punchestown Festival where, carrying top-weight, he finished a game third to the classy Second Schedule.
JODAMI'S GLORY DAYS
The Cheltenham build up
Jodami jumped himself right into serious contention for the 1993 Cheltenham Gold Cup by carting top weight of 12st to victory in the Mandarin Handicap Chase at Newbury on the 2nd January 1993, prompting the bookies to clip his Gold Cup odds to a best-priced 8-1.
Jodami is the very stuff of National Hunt racing. He was picked up cheaply in Ireland five years ago by Beaumont, who had not long held a trainer's licence, having achieved just about everything he could on the point-to-point circuit.
The mild-mannered farmer knew from a very early stage that he had acquired something a bit special and as Jodami began to make a name for himself, first in bumpers and then over hurdles, he became an object of desire for other trainers from Greystoke to Lambourn
Even before he jumped a fence in public, he was nominated by three leading trainers in a Timeform poll as the horse most likely to go to the top, and John Yeadon, his owner, had to state publicly that his pride and joy was not for sale at any price.
Jodami was run out of it by Sibton Abbey in the Hennessy Gold Cup on the same course in November after looking certain to land a massive gamble, but punters kept faith with him yesterday and were happy enough as the eight-year-old jumped with accuracy and economy just behind the leaders.
There was a minor scare at the first fence in the home straight when he got in a bit close, but a great leap at the next had him back in contention. Esha Ness was trying to hold on, but Jodami went past him after the last and drew 21/2 lengths clear on the run-in.
His victory ended a luckless spell for Mark Dwyer, his jockey, who took his career tally to 600. The Irishman, successful in the 1985 Gold Cup aboard Forgive'N Forget, feels that Cheltenham will suit his mount well, while Beaumont, though recognising that Jodami will need to improve further to trouble The Fellow, is happy in the knowledge that he is going the right way.
The Peter Marsh Chase 1993
AN IRRESISTIBLE charge at the end of the Peter Marsh Chase at Haydock maintained Jodami's rise through the chasing hierarchy and elevated him to second favourite for the Cheltenham Gold Cup.
Over in Chantilly, connections of The Fellow were unlikely to be reaching for the cognac to soothe frayed nerves, however. In beating fellow Gold Cup pretender Run For Free, who was conceding 8lb, Jodami surely did nothing that The Fellow could not have achieved without breaking sweat.
Nevertheless, Jodami is barely out of the nursery stage in chasing terms, and his performance was one of real authority.
Peter Beaumont, the dairy farmer turned trainer, nominated Ireland's Hennessy Gold Cup at Leopardstown next month as the next rung for his upwardly mobile youngster.
The Hennessy Cognac Gold Cup 1993
JODAMI beat Chatam by a head in a thrilling finish to the Hennessy Cognac Irish Gold Cup (14th February 1993), but the outcome served only to underline the chances of The Fellow winning next month's Cheltenham Gold Cup.
Leaving aside the fact that no winner of the Leopardstown race has gone on to Cheltenham glory, it is hard to see how either of the English chasers can hope to stop the French raider on March 18.
Chatam, off the course since November but putting in his best ever round of jumping, took the lead two fences out. Mark Dwyer, who followed him through on Jodami, waited until after the last before throwing down his challenge. He deliberately refrained from using his whip and Jodami ground Chatam down inside the final 50 yards. General Idea, who has difficulty staying three miles, was a distance away in third.
To underline the task facing the pair when they take on Francois Doumen's star next month, Jodami finished only six lengths ahead of the French-based chaser in the Hennessy Gold Cup at Newbury in November when receiving 25lb. Chatam finished one and a half lengths behind The Fellow having received 9lb.
Peter Beaumont, the trainer of Jodami, was the first to admit that Doumen will hardly be quaking in his boots. "Not on form," he said. But we can improve a bit between now and Cheltenham. Whether it is enough remains to be seen, but if it is a race like today's it will be great."
Chatam, still relatively inexperienced over fences, made only one minor error, five out, and showed no tendency to veer left at his fences as he has done in the past. A flat track seems to bring out the best in him, but as Peter Scudamore pointed out afterwards: "You can argue that The Fellow is not as good round Cheltenham as he is round a flat track."
Scudamore now has to decide which of Pipe's three Gold Cup hopefuls to ride, Run For Free, Rushing Wild or Chatam. Bookmakers shortened The Fellow to around 6-4, leaving Jodami at second favourite on 4-1 and trimming Chatam to a best-priced 10-1.
Jodami jumps to Gold Cup glory
JODAMI, bought as an afterthought from an Irish field four years ago, landed jump racing's most prestigious prize when he won the 1993 Cheltenham Gold Cup and spared the bookmakers from heavy punishment. In a pulsating finish, Jodami outfought Rushing Wild, the long-time leader, to provide two Yorkshire families with their most memorable day. The Fellow, backed to 5-4 favouritism in a race which attracted £12 million of bets nationwide, would have been the biggest loser in the history of Ladbrokes and William Hill had he succeeded. The French challenger, who made two uncharacteristic jumping errors, looked a threat half a mile out but the earlier mistakes dulled his challenge and he could finish only fourth.
Jodami's journey to Cheltenham glory began in 1989, when Peter Beaumont went to Ireland to look at two horses and while there was urged to cast an eye over another recently broken-in four-year-old. Beaumont, who combines sheep farming with training horses, liked what he saw and took the horse back to his farm in the wilds of Yorkshire.
John Yeadon, who farms near Wetherby and has had point-to-pointers and chasers with Beaumont for 30 years, soon became the new owner and coined the name, Jodami, after himself and his sons, David and Michael. Beaumont knew immediately he was the best horse to be in his care. "I first thought he would be a Gold Cup horse three years ago when he won his first race, a bumper at Kelso," he said yesterday.
So it proved. Even the jinx, which has, until now, prevented winners of Ireland's Hennessy Cognac Gold Cup going on to capture Cheltenham's top prize, could not stop Jodami. This most homely of wins saw Beaumont drive the horsebox on the five-hour journey from Yorkshire on Wednesday and he will drive it back. "Not tonight, I think. Tomorrow morning."
The race went according to plan for Beaumont and Jodami's jockey, Mark Dwyer. After settling in midfield, Jodami jumped without error and gradually moved through the field. The only moment of panic came on the bend leading into the straight, where the giant 17-hands tall frame slipped slightly. The hiccup was temporary. Soon he was challenging Rushing Wild at the final fence before striding up the hill, ears pricked, to join the greats.
Yeadon, who had refused several six figure sums for Jodami during the winter, and Beaumont reacted to victory with dignified calm; almost as though they had won a local point-to-point. The trainer admitted to having shouted Jodami home. It hardly seemed possible as he and Yeadon politely accepted congratulations, answered questions and went off to see the Queen Mother.
It was left to Dwyer to analyse the significance of the victory. "He's a very good horse now. He'll win again. He'll be back next year."
Unfancied in the betting, Jodami drifted to 8-1 and his victory epitomised the miserable time endured by punters during the three-day festival. Not one outright favourite won a race. There were, however, six Irish-trained successes, the largest number since 1982, which had seemed unlikely given the firm going.
Hennessy Cognac Gold Cup 1994: Jodami gives masterly display
Julian Muscat
ON A day littered with Cheltenham clues, Jodami, the Gold Cup winner, returned to his brilliant best with a crushing dismissal of his five rivals in the 1994 Hennessy Cognac Gold Cup at Leopardstown. Racing with a zest lacking in his four previous starts this season, the nine-year-old ultimately extracted a heavy price from Flashing Steel and Chatam, the two horses to challenge his authority.
Flashing Steel, to his credit, was upsides Peter Beaumont's bay when he crashed out of the race two fences from home. However, Mark Dwyer had little doubt the home-trained horse posed no significant threat at the time. It was more a case of Jodami precipitating Flashing Steel's departure by his remorseless gallop, which had long since seen off the challenge of Chatam.
It was Chatam who increased the tempo over a mile from home, only for Jodami to respond with a series of spectacular leaps down the far side. It came in marked difference to the first half of the race, when the horse repeatedly failed to pick up off a long stride. "He felt better in the second half of the race and was loving the company," Dwyer reported.
With Chatam's jumping again failing him, Kevin O'Brien elected to send Flashing Steel upsides Jodami, whose fluent fencing had carried him to the front at the third from home. But as O'Brien went to work, Dwyer felt his mount gaining in both strength and confidence.
Flashing Steel, however, is prone to the odd blunder, and it came now as he duelled with Jodami. The pair drew well away from Deep Bramble, so that Jodami was not hard pressed to coast home by seven lengths after Flashing Steel's tumble. Chatam laboured home a weary fourth.
After a season riddled with disappointment, Jodami is now 6-4 favourite to emulate L'Escargot's consecutive Gold Cup victories, the first in 1970. "Everything just worked today," a relieved Beaumont said. "He will certainly improve on that he was about 85 per cent ready and blew hard when he came back. It was a bonus for him not to have an unduly hard race."
Hennessy Cognac Gold Cup 1995: Jodami advances Festival case
JODAMI won the Hennessy Cognac Irish Gold Cup for a record third time in 1995. In a thrilling race, Jodami prevailed under a strong ride from Mark Dwyer to finish three lengths ahead of Merry Gale, whose jockey, Graham Bradley, dropped his whip shortly after the final fence.
Dwyer, who hit Jodami, the 13-8 favourite, at least a dozen times after the final fence, received a seven-day riding ban for using his whip with excessive force and frequency. "I know I am guilty but there is only one mark on the horse and I would not have won if I had been any easier," he said.
Would the result have been different had Dwyer not breached the rules and Bradley kept hold of his whip at a crucial stage of the race? Bradley said: "I was about to change the whip from one hand to the other when it caught my heel and flew into the air. Even if I could have given him three or four more with the whip I would still have been beaten by half a length. My horse just blew up a little going to the last."
Both Merry Gale and Jodami have had their jumping problems this campaign but there was not a semblance of a mistake from either horse as they approached the final fence in the three-mile race. Merry Gale touched down marginally in front and went at least half-a-length clear before Jodami responded gamely to establish a three-length advantage at the line. Dwyer, who only hours earlier had lost an appeal against a two-day riding ban for excessive use of the whip at Fairyhouse a week earlier, said: "Jodami travelled very well all the way and I was very happy, but he just tends to idle a little bit at a certain stage of a race. Once I gave him a couple of backhanders after the second last and he got into gear, he went to the last more or less on the bridle." Nuaffe, who was runner-up to Dublin Flyer in the Tripleprint Gold Cup at Cheltenham, finished 15 lengths away third, although his proximity to the two principals approaching the final fence does place a question mark against the value of the form. However, Peter Beaumont had every reason to be thrilled with Jodami's victory after a season dogged by bad luck. "I thought at the last we were going to be second," he said. "It was a great race and he will come on a bit for that because he had not had a completed race this season before today." Jodami rediscovers form: The Peter Marsh Chase 1997 SEVEN DAYS of sublime skills in the saddle culminated in another notable triumph for Norman Williamson when he followed up his superbly-executed victory on Master Tribe in The Ladbroke at Leopardstown last Saturday with a masterful display aboard a revitalized Jodami in Haydock's Peter Marsh Chase. Deputising for the injured Mark Dwyer, Williamson forced Jodami's head in front of Richard Dunwoody's mount, Unguided Missile, in the dying strides with a powerful finish that delighted connections, but displeased the stewards. He was banned for four days for misuse of the whip, after marking and injuring Jodami. Williamson, who paid tribute to Jodami's brave effort, said: "I'm a bit disappointed. I did mark the horse, but I didn't feel I was excessive and Jodami was responding. It has taken the edge off the day, but I won't appeal against the decision." Assisted by unseasonably-fast ground, Jodami wiped 4.8sec off the course record. Ladbrokes made the former Cheltenham Gold Cup winner their new favourite for the Grand National at 12-1, while William Hill installed him as joint market leader with Coome Hill at 14-1 and Coral bracketed him on 16-1 with last year's winner, Rough Quest. Anthea Morshead, daughter of Peter Beaumont, Jodami's trainer, said: "It's great to see him back again. He'll probably go for the Hennessy Gold Cup at Leopardstown next, then think about the Gold Cup before Aintree, which is his principal objective." The end: Jodami injured in Ireland Ireland's most popular horse was accorded a hero's reception after making most of the running to defeat Jodami by 1 1/2 lengths, with Imperial Call, last year's Cheltenham Gold Cup winner, 20 lengths away in third. While hats were thrown high into the sky and Tom Foley, Danoli's trainer, was mobbed by well-wishers, a sorry sight greeted Jodami's supporters. The 12-year-old, winner of this race three times and ante-post favourite for this year's Martell Grand National, needed a horse ambulance after breaking down badly inside the final 50 yards. He ruptured his off-fore tendon and will not run again this season. Indeed this was the end of the road for Jodami, who was retired from racing by Peter Beaumont.