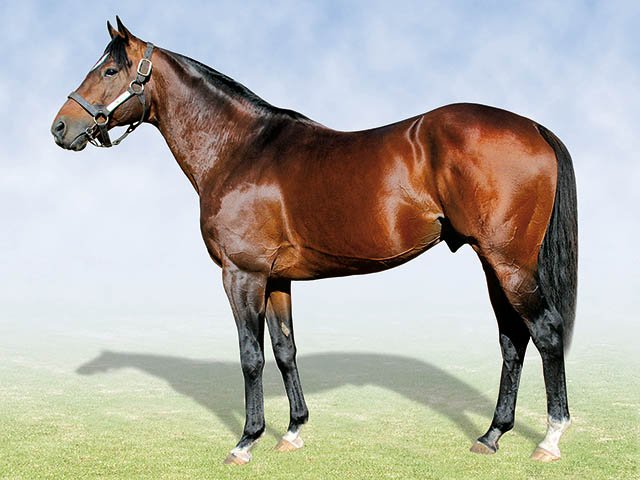 b h Sadler's Wells (USA) – Zummerudd (Habitat )
Races: 7, Wins: 5
Foaled: 27 Feb 1995
Breeder: J T Jones And Ron Con Ltd
Trainer: Aiden O'Brien
Owner: Sue Magnier
King of Kings Irish Thoroughbred Racehorse and Sire
King of Kings lived up to all the hype with a stunning show of speed to win the Sagitta 2,000 Guineas at Newmarket in great style. The race had been billed as a virtual match between King Of Kings and Xaar but it proved no contest with Xaar finishing a tame fourth, over two lengths behind the Ballydoyle star.
The gallops reports beforehand had suggested King Of Kings was something special but there was just a hint of doubt about his two-year-old form. He was beaten at long-odds on by Lady Alexander at The Curragh in July but to be fair to the Sadler's Wells colt he won his other four races including two Group events.
After a stunning display in the Sagitta 2000 Guineas, King of Kings headed for the Vodafone Derby. The key question was whether he would stay the mile and a half trip. The colt was at the back of the field for most of the race, and finished lame.
Continue reading about King of Kings
The recurrance of his two year old problem meant that there was no choice but to retire him, a decision taken early on 7th June.
KING OF KINGS IS RETIRED
By David Carr, PA Sport
King of Kings has run his last race. The Sagitta 2000 Guineas winner suffered a recurrence of an old knee injury when trailing in last in Saturday's Vodafone Derby and is to be retired. It marks a drastic change of fortunes for Irish trainer Aidan O'Brien, who has been sweeping all before him of late and won the Vodafone Oaks with Shahtoush only last Friday. There were fears for King of Kings' future after he finished lame at Epsom on Saturday.
And O'Brien said: "His knee is quite bad – he was very lame this morning. "It's a recurrence of last year's problem and our vet John Halley has X-rayed him. It seems that there's nothing that can be done. The problem seems worse than last year so it's the end of his racing career."
King of Kings suffered a knee injury after gaining his fourth win from five starts in the National Stakes at the Curragh last year. But such was the success of a close-season operation that he bounced back to win last month's 2000 Guineas at Newmarket without the benefit of a prep run, scoring by a length and a quarter from Lend A Hand under Michael Kinane.
King of Kings was backed from 10-1 into 11-2 for Saturday's race, in which he was ridden by Pat Eddery with Kinane switching to Second Empire, but trailed the field throughout. His retirement continues the run of ill-fortune which has dogged recent winners of the 2000 Guineas. Last year's winner Entrepreneur was beaten at odds-on in the Derby and was retired after just one further race. The 1995 winner Pennekamp suffered a career-ending injury at Epsom while 1993 victor Zafonic was retired after just one further run and in between Mister Baileys never won again after scoring at Newmarket in 1994.