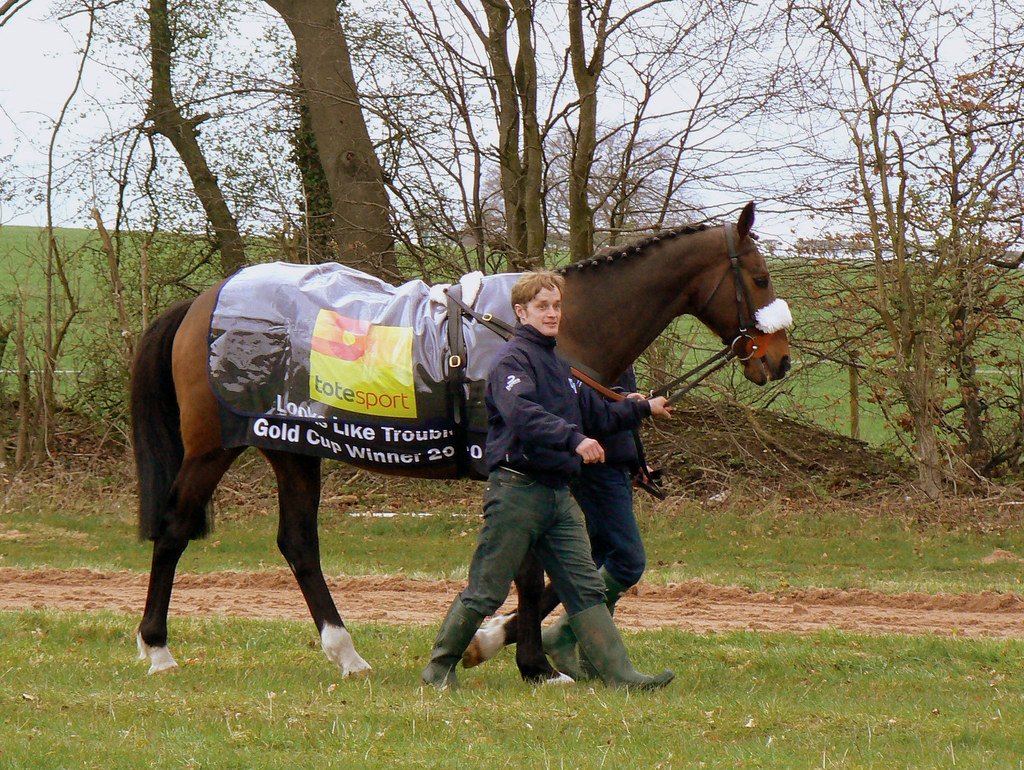 b g Zaffaran (USA) – Lavengaddy (Balgaddy)
Foaled: 7 May 1992
Races: 16, Wins: 8
Breeder: Stephen Reel
Trainer: Noel T Chance
Owner: T Collins
Looks Like Trouble winner of a.o. Highclere Group of Companies John Bull Chase
Looks Like Trouble's racecourse debut was unspectacular, beaten in a low grade novices hurdle at Carlisle. It took the Zaffaran gelding seven attempts to win his first race, which came at Doncaster in January 1999. Upped in class he won again at Sandown and then took the Royal Sun Alliance Chase at the Cheltenham Festival later in the year. He went into the record books as the widest-margin winner in the race's history, the official margin of a distance representing more than 30 lengths. He had to be a classy novice in his own right, but how far would Nick Dundee have won but for his fall when seemingly cantering at the third-last? Norman Williamson confirmed that Nick Dundee had been "absolutely cruising" at the time and explained that he "had to go long and he didn't quite get there". The field quickly became strung out on the second circuit, and the pair had easily drawn well clear of Lord Of The River after the fourth-last and the two riders' body language seemed to say it all, as Williamson appeared full of confidence whereas Paul Carberry's glance over his shoulder appeared to be that of a man intent on not losing second. However, timewould tell and the following season Looks Like Trouble won at Sandown, but was pulled up in the King George on Boxing Day. However, he bounced back in the Pillar Chase at Cheltenham in January. It was a scintillating performance leaving his deplorable King George effort behind with a display every bit as impressive as those he made both in last season's SunAlliance and again on his reappearance at Sandown, bowling along happily in the lead from the start and coming home a very long way clear. He won in the manner of a very high-class chaser indeed, travelling strongly and jumping boldly virtually throughout. However, three of his five rivals have breathing problems and tragically Dr Leunt collapsed and died afterwards.
In a sense, the ease with which Looks Like Trouble travelled made his desperate effort at Kempton all the more perplexing, but Noel Chance, who at the time blamed the ground, revealed that (Norman) Williamson asked after that race if the horse wanted blinkers, and Chance now admits that he might have sulked. The ground may well have been a factor-Chance described it as "like glue" at Kempton, and was somewhat concerned about the deadish ground here-but the worry remains that he has two ways of running, and he may be happiest in a small field, even though there were plenty of runners in the SunAlliance.
The massive gelding gave his trainer Noel Chance a second Tote Cheltenham Gold Cup winner in just four years in 2000 in a race which produced both a thrilling finish and a tragic aftermath. The winner's five-length defeat of Florida Pearl was breathlessly exciting, but it came at a harrowingly cruel price. Gloria Victis, the talented young novice who had contributed so much to an enthralling contest, had to be put down after falling at the second-last. Strong Promise, whose owner Geoff Hubbard died last week, ran on to take third, three-quarters of a length in front of the 9-4 favourite See More Business. Back in fifth, and one of only two other finishers, was Lake Kariba, whose jockey Norman Williamson had been so unexpectedly sacked by Looks Like Trouble's owner Tim Collins last month.
Continue Reading about Looks Like Trouble
Williamson admitted to being "gutted" by yesterday's result, which yielded a first Gold Cup win for Richard Johnson, who himself had lost the ride to Tony McCoy on Chance's previous Gold Cup winner, Mr Mulligan. Chance, who backed Looks Like Trouble for the Gold Cup at 50-1, took an honest but unsentimental view about Collins's decision. "I always stick by my owners. No jockey has ever put horses in my yard," he said.
The loss of his main patron Michael Worcester and the retirement of Mr Mulligan left Chance with just 11 horses and "decidedly ropey" prospects after he had won his first Gold Cup. He was also close to losing Looks Like Trouble but persuaded Collins to buy him, despite giving him only three hours to decide. Collins's investment, questionable at first after Looks Like Trouble struggled in his first few races over fences, looked an inspired one yesterday. But there was a moment of major concern halfway through the race when the gelding made a bad mistake coming down the hill on the first circuit. Johnson recovered brilliantly and made the error look less serious than it was. Chance, though, knew how close he had been to disaster. "I could see my bet going down the drain," he admitted.
"I read that Chandler had put him up at 50-1. I was affronted but decided not to get mad but to get even." Chance, who has saddled three Festival winners from a mere seven runners, has always had huge faith in Looks Like Trouble, who could run again at Aintree. "He's never lacked ability, he just lacked confidence," said Chance. "He has always been a very special horse.
"He has got a high cruising speed, he jumps and he always battles. After he won last year's SunAlliance Chase he didn't get the credit because Nick Dundee fell. But even then I told everyone he was a good horse. Now he has proved himself a very good one."
Despite jumping consistently to the right, Gloria Victis laid down a stern challenge to his older rivals, especially when McCoy turned up the heat on the final circuit. With three fences to go, the reigning champion See More Business was beginning to struggle and Looks Like Trouble and Florida Pearl emerged as the main challengers. Gloria Victis had been headed by the time he made his tragic exit two out and Florida Pearl, under Paul Carberry, held the lead as the front pair jumped the last. But Johnson got the better leap from Looks Like Trouble. "Halfway up the straight he wasn't doing much," Johnson said. "He was enjoying it as much as me. He took the last two fences very fast and then kept going."
Looks Like Trouble reappeared the following season at Down Royal with a brilliant win in the James Nicholson Wine Merchants Chase. He led throughout and put in some spectacular leaps. With Florida Pearl running the best part of a stone below his best, some might question the value of the form but a line through Dorans Pride-beaten 15 lengths and 10lb below the winner on adjusted official ratings-would appear to confirm trainer Noel Chance's view that the Cheltenham Gold Cup winner has improved since last season. Chance said: "He jumped from fence to fence and he probably overjumped at a couple which frightened me a bit. While it was spectacular to look at, it's not the way I would want him to jump his fences. But he was fresh and he won't jump like that next time.
However, due to injury he was not seen out again until January 2002 at Wincanton when he slammed Celibate by a distance in the John Bull. He was well in at the weights and had to win if he is going to take a hand in the Cheltenham Gold Cup. He duly collected after some exuberant jumps, but the overall performance left a question-mark, as Whitenzo would havebeen getting 2st had this been a handicap and he seemed to be going well enough before crashing out at the first in the home straight when virtually upsides.
He really needed further and it was a fine effort following his layoff, but whether it represents top-class form must be open to debate. He gave the impression that he would have to come on a fair bit to live up to his billing at the head of the ante-post lists for the Cheltenham showpiece.
In March he was sent off favourite for the Cheltenham Gold Cup but trailed in last of the 13 finishers behind Best Mate and the following day was retired . It had been only his third race since he took the blue riband prize of steeplechasing two seasons ago.
He had sustained an injury when winning the James Nicholson Wine Merchant Chase at Down Royal in November 2000 and its recurrence proved to be his undoing.
"He's comfortable. He'll be okay, but he'll never race again," said Chance. "I knew that once he went the slightest bit to the right, I knew that was it. He'll probably spend his retirement with us. He owes us absolutely nothing. It was one of those things that can happen to any horse."
Chance reported that the 10-year-old was as well as could be expected. "He's in no pain and the leg is well strapped and well supported so he's perfect in that respect," added the Upper Lambourn trainer.
Looks Like Trouble, who also captured the Royal & SunAlliance Chase at Cheltenham in 1999, won eight of his 16 races and amassed a total of £336,017 in prize money.