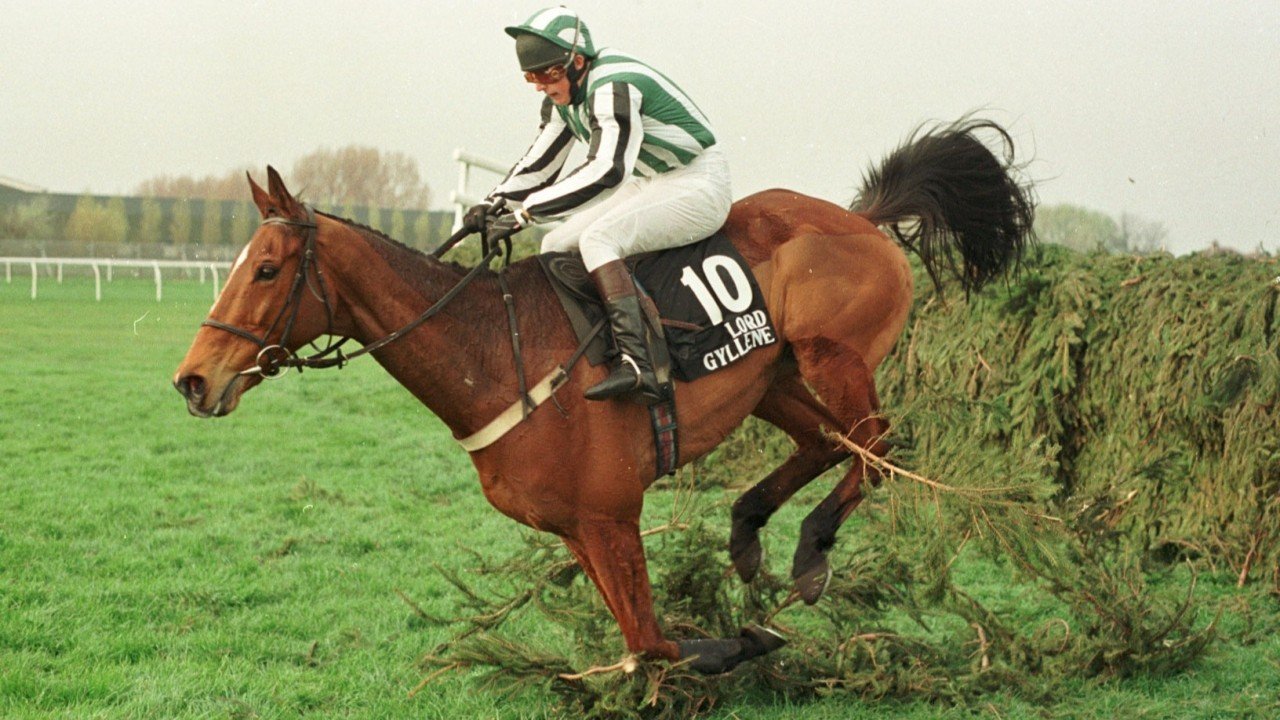 b g Ring the Bell – Dentelle (Crest of the Wave)
Foaled: 10 Nov 1988
Races: 13, Wins: 4
Breeder: NM Taylor
Trainer: Steve Brookshaw
Owner: Stan Clarke
History of Lord Gyllene
Lord Gyllene was foaled in 1988 in New Zealand, and was purchased by racecourse owner Stan Clarke and sent to Steve Brookshaw for a career in Britain. The gelding was purchased after Clarke had seen him on a video. It was a risk but it paid off!
Despite being in the frame three times in 1995/6, he was unable to win in his first season in Britain. However, two further placed efforts at the start of the 1996/7 season, Lord Gyllene's first win came at Uttoxeter in December 1996. He was again victorious at the course in January 1997, before taking the Singer and Friedlander Grand National Trial in March. Lord Gyllene was rapidly establishing himself as one of the country's top staying chasers, and an excellent jumper.
However, Lord Gyllene's finest hour came in the 1997 Grand National when he claimed a famous pillar to post triumph in the rescheduled race. The 150th running of the worlds greatest steeplechase had been postponed following an IRA bomb threat on the Saturday, and only went ahead after a massive security operation. And when it did jockey Tony Dobbin sent Lord Gyllene, a New Zealand-bred nine-year-old, into the lead as soon as the tapes went up and they proceeded to dominate a race destined to go down in National folklore.
Continue Reading about Lord Gyllene
However, after a brief and unsuccessful return to the track, injury forced the retirement of the gelding. He had been off the course for two years and Martin Pipe has admitted defeat in his battle to get the 13-year-old ready for another tilt at the Aintree showpiece.
"Lord Gyllene is not up to full training," the trainer told the Racing Post. "His owner Sir Stanley Clarke and I agreed that retirement was the best thing and he will be given a lovely home."
At the time of his 25-length Grand National triumph Lord Gyllene was trained by Steve Brookshaw, who recalled: "He gave me a tremendous boost. He was a wonderful horse. We fancied him quite a bit before the National but of course his win came after a terrible weekend when the race had to be postponed."
Lord Gyllene was ridden at Aintree by Tony Dobbin, who described him as "the horse who made all my dreams come true".
The jockey said: "When he won the National everyone was saying he would come back and win it again and again. It was just unfortunate he had injuries. He wasn't an exceptional jumper at park courses but when he got to Aintree he took to it like a duck to water."