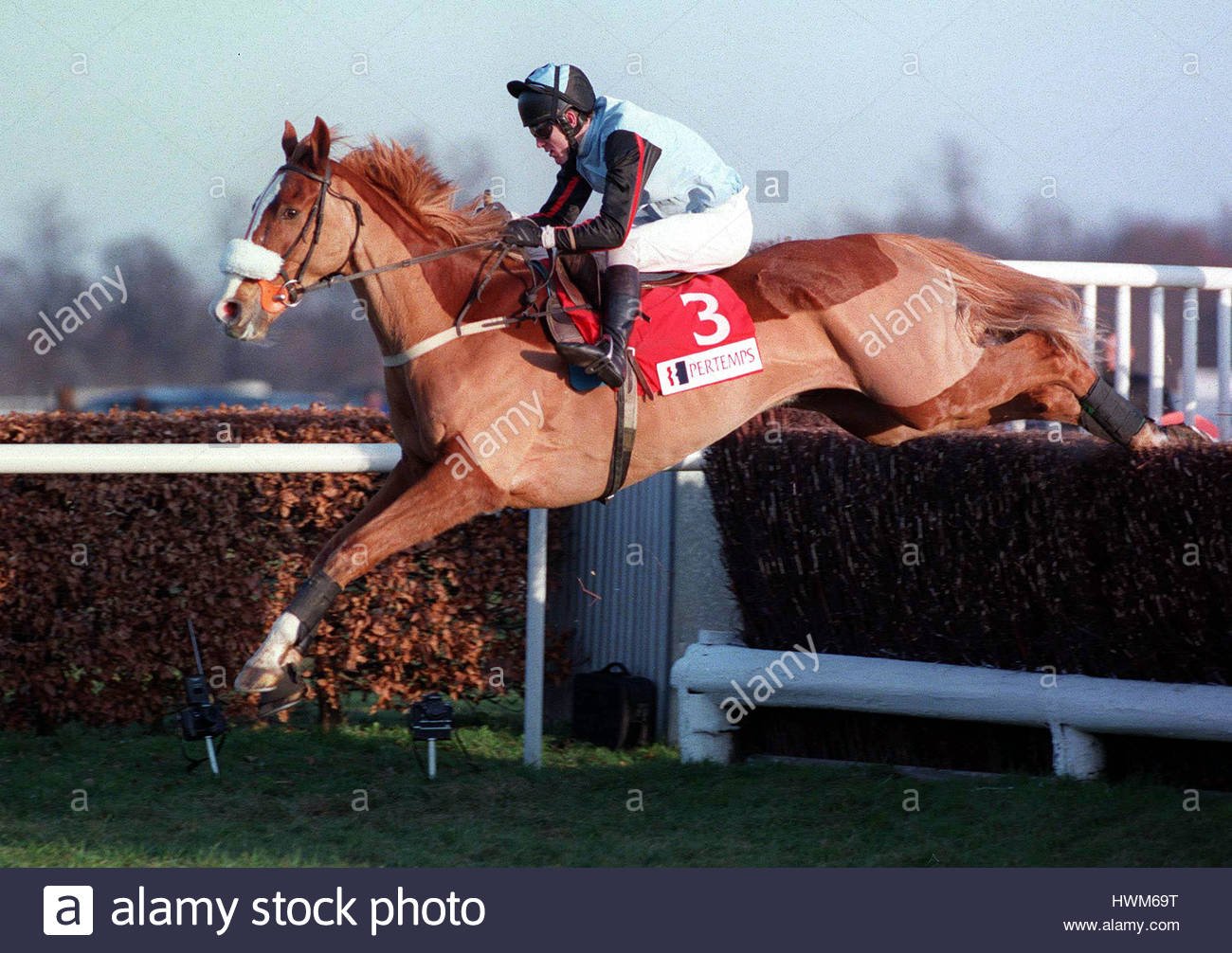 ch g Torus – Miss Manhattan (Bally Joy)
Races: 12 Wins: 7
Foaled: 25 April 1988
Breeder: J Rowley
Trainer: N Chance
Owner: M and G Worcester
Mr Mulligan an Irish-bred, British-trained Thoroughbred Racehorse
mrmully.jpg (14033 bytes)MR MULLIGAN, the 1997 Cheltenham Gold Cup winner, was retired in 1998. The nine-year-old returned from a gallop last Thursday with heat in a tendon and, following a scan, he has been retired by his owner Michael Worcester. Another strong gallop would probably have resulted in a painful, full-blown, tear of the tendon rather than the slight strain he has at the moment, which is causing very little discomfort.
Noel Chance, his trainer, said: "He owes us nothing and we owe it to him. We could have had him fired, given him a year off and tried to bring him back but he would only have been there to be shot at and it wouldn't have been fair on him. He's always had problems and it is a measure of the horse's bravery that he's kept overcoming them. Michael [Worcester] was keen that he should be retired on a winning note.
"We're extremely saddened but at the same time we are happy in the knowledge that he is being retired back with his owner. For him, it will be like leaving the Hilton to go to the Ritz. The Gold Cup was something to cherish and it would be difficult for a yard like mine to find another Gold Cup horse." said Chance.
Continue reading about Mr Mulligan
Mr Worcester bought Mr Mulligan, a gangly chesnut with a white face, for £18,000 after a friend had seen him win an Irish point-to-point. He was in training with Kim Bailey and a long way clear in his first chase, at Newbury, when he fell and broke a vertebra in his neck, an injury few horses ever fully recover from. After his recuperation, Mr Mulligan joined Chance, whom Mr Worcester had just set up in Folly House Stables, Lambourn. As a novice chaser he won five of his six races for Chance, only failing in the Sun Alliance Chase at Cheltenham when Nahthen Lad beat him into second place.
Last season, little went right for him – he had a crunching fall at the last fence in the King George VI Chase at Kempton when in second place -until March. It was a magnificent feat of training by Chance to get him ready for the Cheltenham Gold Cup, let alone win it. That he did by nine lengths from Barton Bank.
"Last season, all the wheels fell off," recalled Chance. "But this season, everything had gone right until now." Chance affectionately refers to Mr Mulligan as being like an "orange giraffe with white spots" and on his final racecourse appearance the gelding did something precious few recent Cheltenham Gold Cup winners have done – he won a race within the following 12 months.
Sadly, in June 1999, Mr Mulligan was involved in a freak accident on owner Michael Worcester's farm near Bristol. The 11 year-old's near-fore was fractured just above the knee by a kick delivered from a companion in a paddock at Home Farm on Monday afternoon. Worcester's wife Gerry was nearby at the time, and a vet was at the scene within 10 minutes. Although an attempt was made to place the leg in a splint, it became evident after 20 minutes that it would be too painful for Mr Mulligan to move to a nearby horsebox, and it was agreed to put him down.
Trainer Noel Chance, who was racing at Chantilly yesterday, was in tears when told of the misadventure.
"I owe everything to that horse," he said. "He was responsible for putting me on the map and without him my life would be very different. It's desperately sad for such a wonderfully brave chaser to meet his end like this. I consider myself so fortunate to have trained him. He had the class to win a Gold Cup, even though he wasn't at his best that day. I hadn't been able to get him back to the same level of form he had shown when winning the Reynoldstown Chase at Ascot the previous season."
Winner of seven of his 12 races and prize-money of £212,552, the front-running chaser with the striking cream blaze was retired 18 months ago to Worcester's farm at Thornbury, north of Bristol, after picking up an injury to his near-fore tendon when winning the Sean Graham Chase at Ayr.
Worcester, who had bought Mr Mulligan as a six-year-old after he had won at the Nenagh point-to-point in Ireland, decided retirement was the sensible option because it would have taken a year or so for the injury to repair, and he was concerned there would be a recurrence of the problem because the gelding's legs were never the most robust.
"He was thriving here and thoroughly enjoying his retirement," Worcester said yesterday.
"We had even been discussing whether to bring him back in and try him hunting.
"We're all desperately sad that this has happened. To us, and many who knew him, he was an outstanding athlete
"All obstacles were the same to him, and he loved to jump. When in training he was not interested in normal exercise, he couldn't be bothered with it."
It was a different story when he was asked to jump.
"Both Richard Johnson and Billy Nicholson, who rode him in his work, would come back with worried expressions but, after he'd been schooled, they'd always return with a smile.
"Gerry and I have been privileged to own such a champion, and his memory will live with us forever."
The Cheltenham Gold Cup 1997
By Graham Shaw, Sporting Life
Tony McCoy completed the Champion Hurdle-Gold Cup double as Mr Mulligan romped to a brilliant triumph at Cheltenham. The chestnut nine-year-old, trained by Noel Chance and sent off at 20-1, jumped superbly to run his rivals ragged and claim an impressive success.
The win completed a wonderful Festival for McCoy, who won the Champion Hurdle on Make A Stand on Tuesday. The jockey was only given the go-ahead to ride at the end of last week after recovering from a fractured shoulder and collar-bone sustained on January 23.
He said: "I had physio twice a day every day and I was in the swimming pool by two and a half weeks. Martin Pipe put me on a few safe horses and some odds-on winners brought my confidence back," he said. Pipe had offered the ride on Cyborgo, the last of eight finishers. McCoy admitted he was tempted to switch mounts, especially after Mr Mulligan worked lethargically at Newbury 12 days ago.
"The way he worked a bumper horse would have beaten him two furlongs and I told Noel I was very disappointed," added McCoy. "But Noel said to come and school him and he jumped the fences much faster than he had run on the flat. If the rain had come I would have definitely thought about Cyborgo but I decided to honour my commitment to Noel."
Outsider Barton Bank (33-1) ran a gallant race to take second, while Dorans Pride finished third for Ireland at 10-1. One Man threatened to take the race coming to the last – just as he did last year. But again his stamina appeared to give out on the uphill run to the finish. The race ended in disaster for the 1996 winner Imperial Call, who was pulled up a long way out by Conor O'Dwyer. Fergie Sutherland's charge, a 4-1 chance, became the 17th horse who has failed to complete the Gold Cup after being sent off as the favourite and the 13th defending champion who has been beaten in the race the following year. Ireland's hero Danoli made a number of mistakes before falling at the second last when out of contention.
Dublin Flyer and Mr Mulligan cut out all the early running, followed by Barton Bank. Unguided Missile's chance went when he suffered a crashing fall as they began the final circuit. Dublin Flyer began to fade out of contention as they started to rise up the hill. Down the hill Mr Mulligan led the field by four lengths from Barton Bank, with One Man travelling well under a patient ride.
Two from home Mr Mulligan still led the field by four lengths with One Man getting much closer. But as One Man weakened the chestnut put in a flying leap at the last to run away with jump racing's biggest prize by a convincing nine lengths from Barton Bank. Dorans Pride was a further half-length back in third.
McCoy was repeating the feat of Norman Williamson who triumphed on Alderbrook in the Champion and Master Oats in the Gold Cup two years ago.
"I can't believe it, it's fantastic," he said as he made his way back to the winner's circle on Mr Mulligan. "I schooled the horse at Newbury recently and he was very disappointing, I could barely get him out of a canter. "But then we took him onto the gallops at Lambourn and he went really well at which point I began to believe again that he could win today. "I was happy just bowling along in front on him as he was jumping super.
"I was obviously a little bit worried coming to the last after what happened in the King George when he took a heavy fall at the same stage. "But he's taken it perfectly and run on really well."
Trainer Noel Chance was claiming by far the biggest win of his career and he said: "This horse has been a nightmare to train – he's had problems with his legs and his back. "But he's got a big heart and that's the most important thing. "His work at Lambourn the other day convinced me he was right and people also forget that he would probably have won the Sun Alliance Chase here last year had he not clattered the first fence. "Luckily he's a clean-winded horse as we've only had six weeks to get him fit after his King George fall. "It was traumatic watching the race, I could barely keep my eyes open. But I knew that when he jumped the last in front he wouldn't be caught. "I've struggled for 20 years in Ireland before coming over to England and to win the Gold Cup is a dream come true." Owner Michael Webster was quick to pay tribute to both the horse's battling qualities and Mary Bromiley's expertise in treating his back problems. He said: "I would just like to put on record our thanks to Mary Bromiley, she has been fantastic with the horse. "Mr Mulligan is a tough old bugger, he just goes on and on. He simply grinds down his rivals."