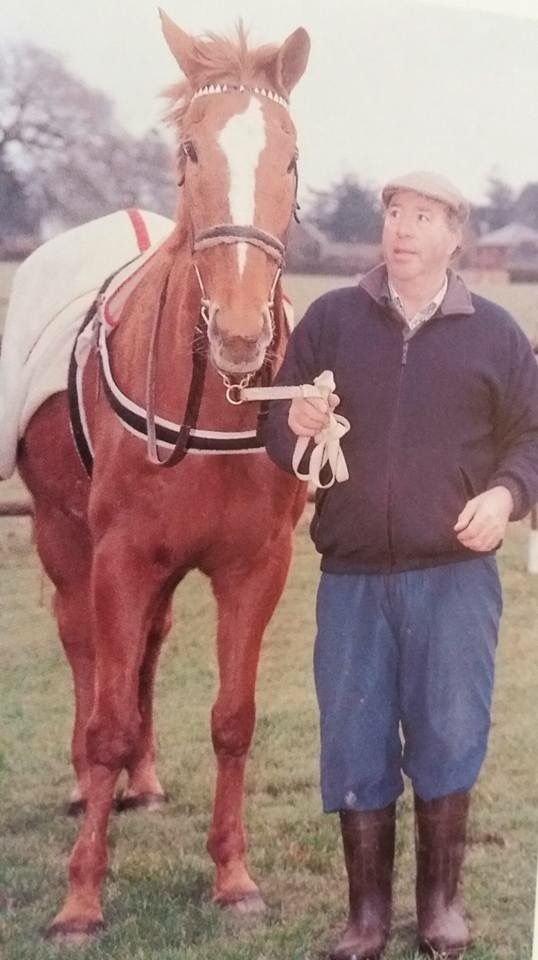 chesnut gelding by Mount Cassino out of Grove Chance (by St Columbus)
Foaled: 1981
Ran 33 races, Won 6
Owner: S G Griffiths
Trainer: S G Griffiths
Breeder: G P Thomas
Norton's Coin British Thoroughbred racehorse
Norton's Coin was foaled in 1981, and will go down in racing folklore for causing one of the greatest upsets of the modern racing era when winning the 1990 Cheltenham Gold Cup at 100-1. Ridden by Graham McCourt, he beat the Jenny Pitman-trained Toby Tobias by three-quarters of a length—10-11 favourite Desert Orchid was back in third—in a time four seconds faster than Dawn Run's course record to make unknown three-horse permit-holder Griffiths an overnight racing celebrity. He was running in the race solely because he had missed the entry deadline for a handicap at the meeting, and he set off for Cheltenham only after Griffiths had milked the cows on his West Wales farm early in the morning. Originally a successful point-to-pointer and hunter chaser, Norton's Coin won six races under rules all told, notably outsprinting top two-miler Waterloo Boy in the South Wales Showers Caradon Mira Silver Trophy back at Cheltenham in 1991.
However, his Gold Cup win is the race he will always be remembered for. The 100-1 victory may have shocked the racing world, but it caused less of a surprise to his owner-trainer Sirrell Griffiths. Griffiths, then a three-horse permit holder from Nantgaredig, near Carmarthen, had produced the gelding to win three chases—including a valuable race at Cheltenham in April—the previous season. And as he drove the box to Cheltenham that morning, he was convinced Norton's Coin was not the rank outsider the bookmakers believed him to be.
"I thought he could get in the first four," he said. "I didn't expect to win but I told people that if he ran well he could get in the first four. I was getting excited coming to the second-last, and I could see McCourt was sitting quiet.
Norton's Coin
"Coming to the last, I thought, 'If he jumps well, he's going to win'. And I was shaking this chap's shoulders like a terrier dog. As they passed the post, he turned round and said, 'Do you mind? That's my neck!'
"It was like a football match when I got back to the yard—ITV television were there and had plugged their floodlights into the electricity—and you could see the yard from a couple of miles away. I didn't get to bed that night."
McCourt recalled: "He hit the first fence down the back on thefirst circuit and I thought, 'That's my Gold Cup out the window'. But after that he jumped perfectly and at the top of the hill I looked at Desert Orchid and knew I had him beat, and it was a tremendous fight up the hill with Toby Tobias."
Jenny Pitman, trainer of the runner-up, said: "Norton's Coin winning at Cheltenham will be a day that neither Sirrell Griffiths nor I will ever forget. For Sirrell, a small trainer in Wales, to win it is what National Hunt racing is all about."
Norton's Coin went on to win once more at Cheltenham the following year, and was retired in 1993 after an operation failed to cure problems with his breathing. When his racing days were over the gelding was given an honourable retirement at his owner-trainer Sirrell Griffiths' Rwyth Farm in Nantgaredig, near Carmarthen, Wales, where he lived for the rest of his natural life. Sadly, in 2001, Norton's Coin, who was by now 20, died after what was believed to have been a heart attack. Griffiths said: "I turned him out into a field this morning, I went back to put some hay in the field and when I got there the poor old boy had died. He obviously had a heart attack.
"He had a life of leisure—we never rode him after his last race because he had an operation on his throat which went wrong, and every time he did a gallop he coughed.
"He was one of the family, but we can't do much about it. It's a pity we can't all go the same way instead of suffering goodness knows what." Norton's Coin won six races under Rules during his career and finished eighth of 13 on his only start on the Flat, in the Queen Alexandra Stakes at Royal Ascot in 1991, when ridden by Lester Piggott.
McCourt, who retired from riding to begin training in 1996, said yesterday: "It was a wonderful day. The old horse gave me a lot of fun and I owe him a lot. It's a big shame."