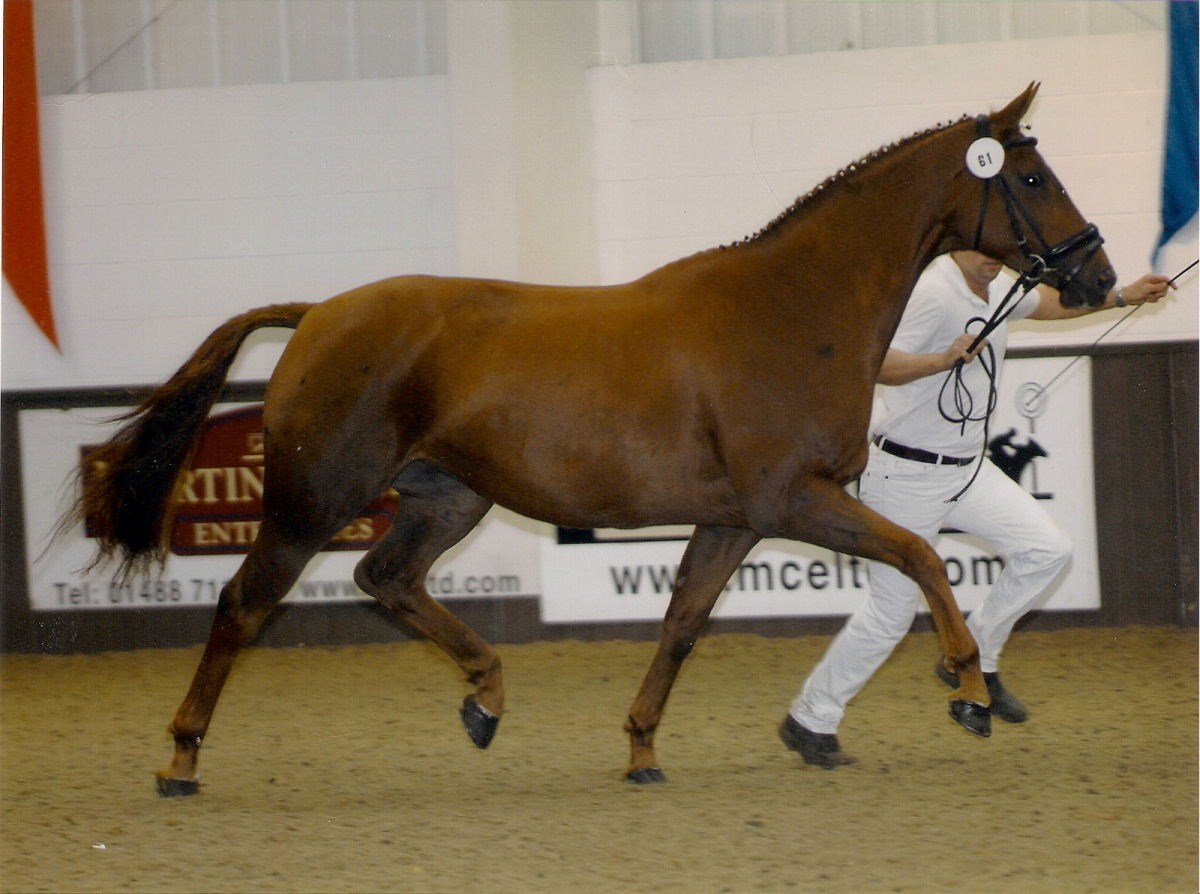 chesnut filly by Unfuwain out of Ballet Shoes (by Ela-Mana-Mou)
Foaled: 3 May 1997
Breeder: Airlie Stud
Trainer: Sir Michael Stoute
Owner: Highclere Thoroughbred Racing
Petrushka Thoroughbred Racehorse Bred in Ireland and Trained in the United Kingdom
Only days after the heady joy of Galileo's Derby win there is sad news that one of the best loved heroines of recent times raced her last at the Derby meeting. Petrushka made her seasonal debut when she lined up to contest the Coronation Cup against the colts and although not many fillies have won the race it would have come as no surprise if she had done it. Instead she finished down the back and looked a little distressed when she came in. Something was surely amiss and has now been confirmed. She somehow sustained a strain to her right-fore tendon in the race. It is reported that she is likely to be sold at auction later this year.
Although terribly disappointing to all connections at least her bad run is explained. This is a sad ending for the fairytale filly who Sir Michael Stoute sent out to win the hearts of many fans and three Group Ones for her Highclere syndicate. It is so difficult to keep a top class horse in training for a 4 year old campaign but it was hoped that Sir Michael who excels at older horses would be able to keep her going for a few more races and lots more memories. Her injury has robbed her and her fans of more glories on the track but it will not keep her from taking her rightful place at paddock where she is sure to carry only the best sire's progeny.
I have long followed horses from the family of Ela Mana Mou who is my favourite sire. There is a huge list of these who I have loved with Double Trigger;s name at the top. Petrushka was the first filly from that family that I have followed and because I also loved her sire Unfuwain it is very, very hard to know where to place her in my affections. I would have to put her name next to Trigger's on that top line. I believe that she was brilliant, the perfect racehorse, and I think she would have improved with age.
Continue reading about Petrushka
I have a superstition that racehorses often live up to the lofty names which we give to them in the hope that they will achieve greatness. Petrushka could not have been better bred, or better named. She was bred by Airlie Stud, one of the most respected names in Irish bloodstock. Out of Ballet Shoes and called after a ballet by Igor Stravinsky, both sides of her pedigree are filled with illustrious horses. In our household Petrushka is known as 'The Purple Princess' because of her dream pedigree. Her Dam Ballet Shoes, by Ela Mana Mou was a beautiful and talented racehorse but her highly strung temperament was not suited to racing. Ballet Shoes was a 5 furlong sprinter although there was some thought that if her energy could have been harnessed she would have stayed further. In true aristocratic style she was pronounced as being, "completely mad" by Walter Swinburn, who rode her a couple of times. Ballet Shoes also has the unusual distinction of having 'won' two maiden races. She finished second in the first maiden she contested but was awarded the race later after winning her second maiden properly. Ballet Shoes who was bred and owned by Lord Weinstock is a half sister to Spectrum from the family of Saddler's Hall (Sire of Silver Patriarch) and Sun Princess. Her Dam, River Dancer was a juvenile 5 furlong winner and won and placed over 1 mile in Group company. Her potential as a broodmare was spotted by Airlie who purchased her for 42,000 guineas at the end of her three year old campaign.
Ballet Shoes was mated to Unfuwain and produced Petrushka, then Nashwan by whom she has a colt, Colorado Falls (in training with Henry Cecil) and to Alzao. The Alzao colt went to the yearling sales in 2000. She was then rested and again mated to Unfuwain.
Airlie is well acquainted with the sire of Ballet Shoes, Ela Mana Mou, having bred his Sire Pitcairn. Mou comes from an unbroken sire line of 6 champion racehorses. He was a beautiful looking horse and a force to be reckoned with, unlucky in his 3 year old campaign due to injury but achieving champion older racehorse. Although trained by Guy Hardwood and then the wizard Major Dick Hern, Mou was just the sort of older horse that Sir Michael himself does so well with. He ran a creditable 6th in the Derby, took the Eclipse, the King George and was 3rd in the Arc after interrupted preparation and uncharacteristically fast ground which was against him. Dick Hern felt that he could have won the Arc if the ground had remained soft. Ela Mana Mou has amongst his offspring some very good colts, the most notable being Snurge, and the irreplaceable Double Trigger. But Mou is best known as a broodmare sire and by producing Petrushka Ballet Shoes has proved herself as one of his best.
On the Sire side of Petrushka's pedigree lies another underestimated sire, Unfuwain from a brilliant family. Unfuwain is by Northern Dancer, sire of sires, out of Height of Fashion (by Bustino). Height of Fashion was bred by the Queen, and sold to Sheik Hamdan Al Maktoum for a large undisclosed sum when her racing career was over. This was a decision which the Queen probably came to regret because although the funds were undoubtedly put to good use in her breeding operation she had longed to breed a Derby winner. Height of Fashion foaled Nashwan the year after Unfuwain. The incomparable Nashwan literally floated his way to Derby history and Unfuwain, only 7th in the 1988 Derby, rather unfairly lived in the shadow of his more illustrious brother for many years both on the racecourse and at Shadwell Stud in Suffolk where they took up stallion duties. Despite not always getting the best mares Unfuwain burst from the shadows in 2000 to produce the first 3 home in the 1,000 Guineas. Lahan, Princess Ellen (by Tirol, out of Celt Song by Unfuwain) and Petrushka. Unfuwain is a very brave horse and the staff at Shadwell are particularly fond of him. Unfuwain had cancer over one of his eyes and long and painful treatment pioneered by his vets and a doctor at Addenbrookes Hospital in Cambridge saved his life. Although physically scarred he never lost his spirit and remained a model patient throughout his ordeal. Obviously his illness did not dent his ability to produce winners and in Lahan, Princess Ellen and Petrushka he has received the acclaim he has long waited for. Ironically in this same year the Queen also struck good with a filly by him, Film Script.
With her bright chestnut coat and small white heart on her forehead, Petrushka had the full set of ideal attributes for a racehorse. She possessed a wicked turn of foot, bravery in a battle and stamina to dull the edge of her rivals. She has inherited only the best from her relatives. Instead of the highly strung temperament of her Dam she hds her speed, courage from her Sire, and a lethal weapon in a dose of staying power from Ela Mana Mou. Add to this her 'butter would not melt in her mouth' looks and you have a devastating package guaranteed to win races, hearts and a high price for her foals. Her owners, Highclere Thoroughbred Racing all adore her. There is a huge element of luck in achieving success in racing but one cannot help thinking that Harry Herbert (founder of HTR and son of Lord Carnarvon the Queen's racing manager) knew exactly what he was purchasing when he bought the Granddaughter of the Queen's Height of Fashion. At Ir110,000 guineas, she could not be called a cheap buy but she has proved she is worth every penny and then some.
Petrushka began her racing career at Leicester in October 1999 when she took the European Breeders Fund Hare Maiden Fillies Stakes under Kieran Fallon. That she kicked off her 3 year old campaign in April 2000 by winning the Group 3 Shadwell Stud Nell Gwyn Stakes in such outstanding fashion was quite appropriate since her sire stands there. This set her up as favourite for the 1,000 Guineas. As the crowd gathered around the parade ring, anticipation of her entrance was heightened by the fact that she was the last to enter the ring. But something was amiss on that day and she did not look the same glowing filly who had stole our hearts in the Nell Gwyn. Undoubtedly she needed further than the 1 mile of the Guineas and accordingly she could not go the early pace in the race, being beaten into 3rd by Lahan who looked every bit a good miler. Connections stated that she did not seem right to them Sir Michael added that she had been very quiet a few days before the race. Petrushka was duly tested and found to have a potassium imbalance. In the Group 1 Vodafone Oaks in June she was an unlucky fourth after she was bumped and lost her position at a vital stage. She did not seem to act on the turns of the Derby course and was possibly left with too much to do. She flew down the straight overtaking horses to get fourth place but it was too late and the quicker, more fluent Love Divine had taken first prize. It is interesting that despite these defeats she remained very much a favourite with both the public and the press who were sure that she would turn the tables on her rivals. Although certainly not starting favourite she came back to her radiant best on 16th July and took the Group 1 Kildangan Stud Irish Oaks at the Curragh by 51/2 lengths. She then followed this with another Group 1 win in the Aston Upthorpe Yorkshire Oaks at York where she exacted revenge upon Love Divine and left the wonderful princess of the previous year, Ramruma in 3rd place. Amazingly she then traveled to France where she took another Group 1, the Prix De L'Opera-Hotel Du Lac Barriere at Longchamp. Her prize money enabled her owners to send her to America to take her chance in The Filles and Mares at the Breeders Cup. She had a poor run in the straight and coming into the home turn the eventual winner Perfect Sting was actually behind her. Petrushka was then bumped by Catella coming off the bend who was being very aggresively ridden to take 3rd place. This was a deciding moment as Petrushka was just building momentum and it stopped her run long enough to put her in 5th place. She probably would not have won as she basically lacks the speed and experience of the hurley burly of American racing, but had she not been careered into she would have been closer at the finish. Nevertheless, with Lahan sadly injured and out for the season and Love Divine retired to the paddocks Petrushka remained a filly to follow as it was announced that she would stay in training in 2001. She has proved herself a class apart.
Unfortunately her first assignation of the New Year was not to be as she sustained an injury in an accident on the gallops and her participation in Dubai wass cancelled. She returned to Britain to undergo a minor operation. It was hoped that she would fully recover from this and resume her career with the same consistency she showed last year. With the assistance of a master trainer of older horses and her ancestors who continued to shine in their twilight years, she had every chance to win more major prizes but sadly it was not to be and her career has ended
It is well to never forget what her trainer Henry Cecil said of the heartbreakingly beautiful Bosra Sham her at the height of her glory – "Enjoy her while you can, the likes of her do not come our way very often". I am so very glad that I heeded those very same words in thinking of Petrushka.
Airlie Stud have bred a full brother to Petrushka. After being rested for a year, Ballet Shoes foaled a chestnut colt by Unfuwain on 31st January 2001. Watch for this one being fought over at the sales and keep track of him. It will be a surprise if he is not in the line up and the finish for the Derby in 2004. Good things eventually come to those who wait and Unfuwain and Ela Mana Mou have waited a long time for their offspring to be involved in the classics they themselves ran in. They both deserved the success of Petrushka as much as she and her connections did.
It will be very hard to say goodbye to Petrushka and the King George and the Champion Stakes will be haunted by the lack of her presence. It will break my heart but I will be present for her sale where I will be praying that whoever buys her loves her as much as we do. I hope that Airlie are there to take her home.