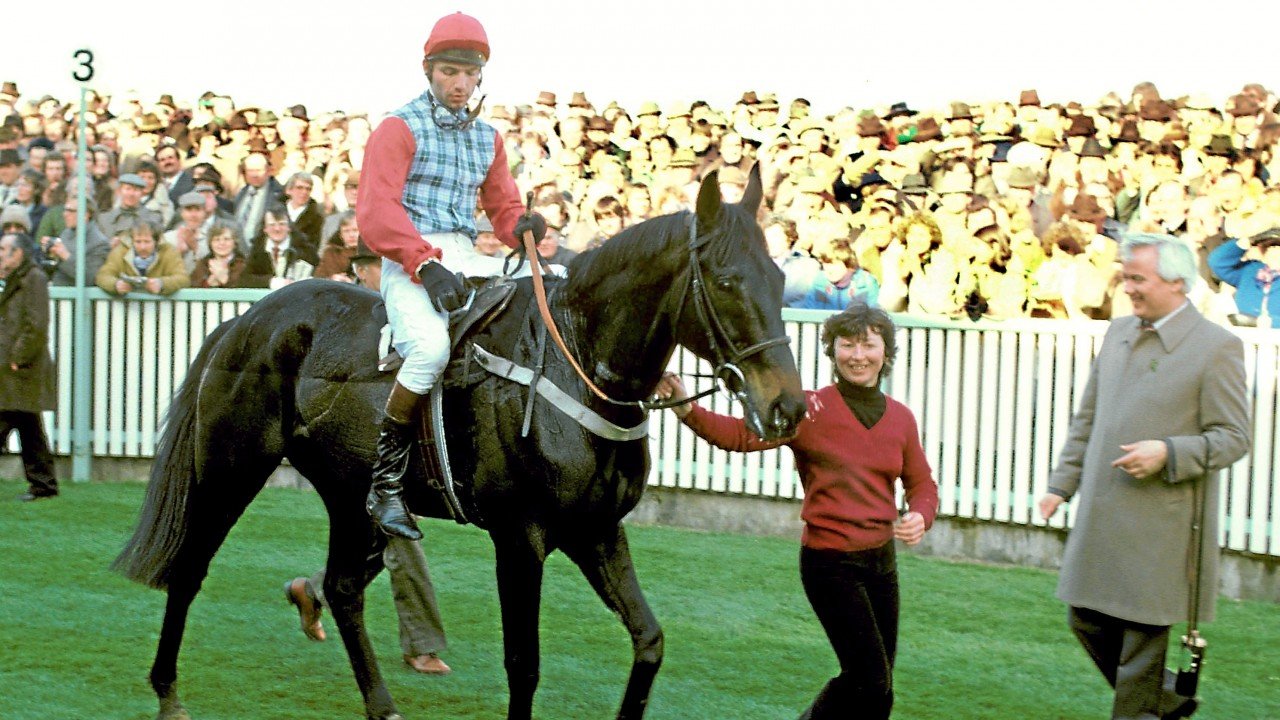 b g Sea Bird II – Around the Roses (Round Table)
Foaled: 1970
Races: 85 Wins: 37
Trainer: Peter Easterby
Owner: Pat Muldoon
Breeder: Greentree Stud (USA)
Sea Pigeon an American-bred, British-trained Racehorse
As versatile horses go, Sea Pigeon was one of the very best. Winner of 37 of his 85 races on the Flat and over hurdles, the former Peter Easterby-trained gelding will always be remembered as one of the greatest timber-toppers of all time. He twice won the Champion Hurdle, in 1980 and 1981, and his devastating turn of speed also saw him clinch the Welsh Champion Hurdle and dual triumphs in the Fighting Fifth Hurdle and the Scottish Champion Hurdle.
On the Flat, he twice won the Chester Cup, but it was his last-gasp effort in the 1979 Ebor Handicap at York that burns deepest in the memory. He was a nine-year-old at the time, and carried a massive 10st to victory under Jonjo O'Neill.
Cared for throughout his retirement by Polly Perkins at her stud at Slingsby just outside Malton, Sea Pigeon remained as popular as ever in his twilight years, until his death in 2000.
Continue reading about Sea Pigeon
This page remembers a horse who was more than a champion. He was a legend.
SEA PIGEON, the outstanding dual-purpose horse of the 1970s and 1980s, has died at the age of 30.
Though the Classic aspirations held for him in his early days on the Flat were not fulfilled, Sea Pigeon went on to prove himself a top staying handicapperwith wins in two Chester Cups and an Ebor Handicap, and he landed the Champion Hurdle in 1980 and 1981, having finished second in the two previous seasons.
Bred in the US by Jock Whitney's Greentree Stud, Sea Pigeon was a son of Sea-Bird out of Around the Roses, a half-sister to champion two-year-old filly Rosalba. Like all Whitney's Flat horses in England at the time, Sea Pigeon was trained by Jeremy Tree and won his only juvenile start, the Duke of Edinburgh Stakes at Ascot. That put him on the fringe of the Classic picture but he disappointed the following year, though he finished fourth in the Dante and Prince of Wales's Stakes, and seventh in Morston's Derby.
Sea Pigeon was gelded during the winter, but did not run again for Tree. He was bought for £8,000 plus VAT by Edinburgh-based Pat Muldoon, a successful businessman in the wine trade, and was transferred to Gordon Richards at Greystoke. Ridden by the trainer's son Nicky, he was second on his next outing, in the Moët & Chandon Silver Magnum at Epsom.
But Sea Pigeon then started at 1-5 for another amateurs' race, at Beverley, and showed little resolution in defeat. Six weeks after that depressing display, Sea Pigeon made his debut over hurdles and won a novices' event at Newcastle. More winsfollowed at Ayr, Newcastle and Doncaster, and his first season's jumping ended when he finished second at Doncaster to Birds Nest, who was to become a regular rival.
The combination of gelding and waiting tactics had made Sea Pigeon much more amenable and enthusiastic. In his second season over hurdles, 1975/76, he won three times and was placed twice from five starts. He would have been in the field for the Champion Hurdle had he not sustained a minor injury after winning Sandown's Oteley Hurdle.
Sea Pigeon began his 1976/77 campaign by winning an Ayr handicap under 12st 7lb, and though he then went down by eight lengths to Lanzarote at Kempton, he went on to win high-class handicaps at Haydock and Liverpool, and finished fourth behind Night Nurse andMonksfield in the Champion Hurdle after having every chance at the final flight. After the Kempton defeat, a difference of opinion between Muldoon and Richards resulted in the owner moving his horses to Peter Easterby's Great Habton yard near Malton. Jonjo O'Neill, who had become Sea Pigeon's usual partner, left Richards' stable before the start of the next season and continued his association with the horse while riding as a freelance.
In 1977 Sea Pigeon reverted to the Flat and, on his first such appearance for three years, won the Chester Cup. He also won at Redcar and Thirsk, and was second in the Northumberland Plate and fifth when favourite for the November Handicap at Doncaster. He then went to the US for the Colonial Cup at Camden, South Carolina, where, on his only outing over fences, he fell three out when starting a forward move.
The injuries Sea Pigeon received kept him off the track until February 1978, when he again won the Oteley Hurdle before finishing second to Monksfield in the Champion Hurdle, with Night Nurse third. Some felt that had Frank Berry (who had taken over the ride when O'Neill was injured the previous day) known the horse better, he would have delayed his challenge longer and might have won.
Sea Pigeon profited from the fatal fall of the brilliant Golden Cygnet to win the Scottish Champion Hurdle, but could then finish only seventh when favourite for the Royal Doulton Handicap Hurdle at Haydock. The week after that defeat Sea Pigeon landed his second Chester Cup, this time under 9st 7lb, and added four more wins on the Flat that year, including the Moët & Chandon Silver Magnum under his trainer's son, Tim. However, his Flat limitations were exposed when he was tried in Group company at Doncaster and Newbury.
The day before he finished second in the St Simon Stakes, Sea Pigeon had easily won over hurdles at Newbury, and he went on to thwart Birds Nest's attempt at a third consecutive win in the Fighting Fifth Hurdle. He was then off the track until March, when he finished second in a handicap at Haydock, carrying 12st 7lb and trying to give 18lb to Decent Fellow, and again chased home Monksfield in the Champion Hurdle. For the second time he came too soon (under O'Neill this time) and allowed the Irish champion to battle back. He then fell at Liverpool and disappointed at Ayr, but any thoughts that his enthusiasm was fading were laid to rest when he finished a creditable third under 10st in the Chester Cup. Sea Pigeon carried 10st in the Ebor Handicap at York in August and, with O'Neill riding him as regular Flat partner Mark Birch was on the other (and shorter-priced) Easterby contender No Bombs, Sea Pigeon brought the house down as he held on by a short head against Donegal Prince. O'Neill gave everyone palpitations by dropping his hands a few yards from the line and was admonished by the stewards for so doing.
Intermittent lameness, caused by an infection in a fore-foot, meant a low-key start to the 1979/80 jumps season. But despite his trainer's forebodings ahead of the Champion Hurdle, he was in peak form as he went past Monksfield after the final flight and came clear to win by seven lengths. He then won the Welsh Champion Hurdle before ending the campaign on a disappointing note when third to Secret Ballot at Ayr.
Even though he was now 10 years of age, Sea Pigeon was not given an easy time and, less than a month after his Ayr defeat, he ran again, disappointingly, in the Chester Cup. Next, ridden by his owner's son Steve Muldoon, he won an amateurs' race at Hamilton, but the same rider gave him too much to do when beaten at odds of 1-5 in a similar race at Beverley. Further wins at Redcar (the Vaux Breweries' Gold Tankard for the third time) and Ayr followed; at the Scottish course he notched his best ever Flat performance when running away with the 11-furlong Doonside Cup, though that still put him about 7lb below top class. He never did win a Pattern race. But while his Flat career was winding down, there was still moreto come over hurdles, notably a second championship at the age of 11 when, ridden by John Francome (O'Neill was injured) with breathtaking confidence, Sea Pigeon headed Pollardstown halfway up the hill and went on to win by a length and a half.
He had won his two races in the autumn, including the Fighting Fifth for the second time, but disappointed at Ayr, and two lacklustre runs at the start of the 1981/82 season persuaded Easterby and Muldoon that the horse's days at the top were over.
After a long,honourable and versatile career, Sea Pigeon left the scene in March 1982. The racing public had taken him to its heart, and a film of him looking sprightly and fit in retirement at the Etchingham Stud in Yorkshire shown on Channel 4, with John Francome interviewing the stud's owner Polly Perkins, rekindled many a memory of the most remarkable horse of his era.
Sea Pigeon – Like a Rolls-Royce in morning gallops
By: Tom O'Ryan
MEMORIES are golden. Can it really be 20 years ago that, as a dipstick-thin apprentice with Peter Easterby, I had the occasional early-morning thrill of climbing aboard a living legend? Sea Pigeon, at the peak of his powers, was some machine
It's often said that in order genuinely to appreciate a really good horse, you need to ride enough bad ones to know the difference. That wasn't difficult for me in the case of Sea Pigeon. The rare privilege of sitting on him in a bit of work was like travelling in a Rolls-Royce. Ultra-smooth, with a high cruising speed, an impressive change of gears, plus overdrive. No horse, at least at Habton Grange—and there were some damned good ones there then, as now—could ever remotely get him off the bridle.
Ride againsthim and it was like spitting against the wind. A furlong from the end of the gallop, just when you thought you'd gone a good enough clip to stretch him, and he'd come sailing past, with ears pricked under a motionless pilot, as though he'd just jumped in.
That Mark Birch did so much to make him the horse he was, by getting him to settle in his younger days, is irrefutable. Monica Wakefield, his ever-faithful lass, was another valuable cog in the wheel, which was turned so effectively by Easterby, whose handling of Sea Pigeon under both codes was nothing less than genius at work. It says much for the lasting impression this one-in-a-million character created on the racecourse that his popularity hardly dimmed during his many years in retirement.
Under the loving care of Polly Perkins, Sea Pigeon continued to attract regular visitors, fan-mail and presents like any ageing superstar. Despite having gone grey round the temples and reached the age of 30—about 100 in human terms—'Pidge' made two or three guest appearances this year, the last being at the Malton Stables' Open Day early last month, when he wallowed in the attention and sent his many friends home happier just for seeing him again.
Sadly, they will see him no more. Sea Pigeon's passing is theend of a great life, and of a great horse. Fittingly, he was yesterday laid to rest at Habton Grange alongside his old adversary and former stablemate Night Nurse.
Two dual champion hurdlers together again. The end of an era.
The legend, though, created by this pair of jumping icons, lives on. Just like the golden memories.
HAPPY BIRTHDAY SEA PIGEON
from the Racing Post, 7th April 2000
STAND quietly with him, patting his neck, stroking his inquisitive nose, cursing your own thoughtlessness that you have forgotten to bring him his favourite mints-with-the-hole, and you cannot help but notice his grey hairs.
Irregular patches of them – above and below his soft brown eyes – streak his dark coat, giving him the distinguished look of an elderly gentleman. A very special elderly gentleman. Sea Pigeon is 30 years old today.
Forget the collective birthday celebration for all thoroughbreds on January 1. This is the actual day that the union between Sea-Bird, the greatest Derby winner of all time, and Around The Roses, a classy American racemare, produced a horse who was to become a legend; who was to win 37 of his 85 races; who wrote his name into the Champion Hurdle record books during a golden era; whose versatility and searing turn of foot captured the hearts of all who watched him, and whose sheer grace and power thrilled all who were privileged enough to ride him.
As a member of Peter Easterby's outfit, that privilege came my way on the gallops only occasionally, and only when Monica Wakefield, his ever-faithful lass, and Mark Birch, the resident Flat jockey, were otherwise engaged. But you never forget that feeling of what it is like to travel in a Rolls-Royce – and he was certainly the equine version.
It is frightening to think that it is 19 years since he successfully defended his Champion Hurdle crown. In much the same way as he had done the previous year under Jonjo O'Neill, when he had made it third time lucky at the main expense of his arch-rival Monksfield, 'Pidge' did the double under the most daring of rides from John Francome.
"He was pure class," remembers Francome. "The feel he gave me when I let off the handbrake after the last was unbelievable – I can't think of another horse I rode that could quicken like him at the end of a top-class race."
Meeting up with him again in his dotage is like renewing an acquaintance with a beloved long-lost uncle. The Ebor and dual Chester Cup hero is a bit paddly on his feet, and there are hollows where there used to be hunks of muscle. But, considering he is nudging 100 in human terms – "he should get a telegram from the Queen," says Francome – he is in remarkably good health.
"He had a rough time last winter, but he's been a lot better this year," confirms Polly Perkins, who has looked after his every need at Etchingham Stud near Malton throughout his retirement on behalf of the Sea Pigeon Trust, run by Lord and Lady Oaksey.
His loyal legion of fans, some of whom were barely born when he was in his prime, remain devoted to him. People like Wendy Myers, who visits him every other month from her home in Keighley, West Yorkshire, and not only brings him thermal rugs, but also keeps him regularly supplied with vitamins and anything else that she thinks will prolong his active life.
As Sea Pigeon heads out into the paddock, he makes his usual daft dash for the gate. Watching him hack away with his ears pricked, the temptation is to picture him trading punches with Istabraq next week – of seeing him use that lethal acceleration to do to the reigning champion what he did to Monksfield in 1980. Easterby has a final resting place reserved for him at Habton Grange, alongside another dual Champion, his former stablemate and rival Night Nurse. But it is not needed yet, and it gladdens the heart to report that Sea Pigeon – the legend – lives on.