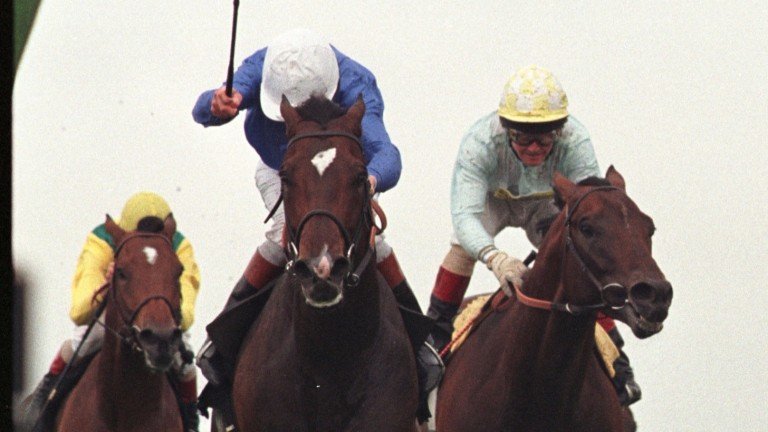 b h Nashwan (USA) – Love Smitten (CAN) (Key To The Mint (USA) )
Races: 20, Wins: 8
Foaled: 1992
Breeder: Sheikh Mohammed
Trainer: Saeed bin Suroor
Owner: Godolphin
Swain With 8 Wins out of 20 Races
To say Swain has plenty of big-race experience would be the understatement of all time. Godolphin's globe-trotting six-year-old has seen it all and just about done it all in a star-spangled career. This horse is the ultimate professional, classy with plenty of guts and stamina.
He has been placed in 19 of his 21 starts, winning 10 and collecting a total of more than $3million in prize money in the process. Swain, originally running in the colours of Godolphin master Sheikh Mohammed, began his career in the hands of French master trainer Andre Fabre.
He made his debut as a three-year-old and won his first five starts before heading to Longchamp well-fancied for the 1995 Prix de l'Arc de Triomphe. Swain couldn't quite take the biggest prize in Europe, but he did finish a creditable third behind the great Lammtarra.
Swain – Wins and Defeats
In 1996 Swain ran only five times, but did grab his first Group One prize, the Coronation Cup at Epsom. And the season ended with praiseworthy efforts again in the Arc (fourth) and the Breeders' Cup Turf (third). Swain was switched to England to continue his career in 1997, at the Newmarket stables of Godolphin and trainer Saeed bin Suroor.
After defeat in the Princess of Wales Stakes at Newmarket, Swain took on the likes of Helissio, Pilsudski and Singspiel in a mouthwatering clash at Ascot. And he won a thrilling battle with Pilsudski in testing conditions to take the King George VI and Queen Elizabeth Diamond Stakes.
Swain ended 1997 with possibly the most disappointing performance of his career – seventh in the Arc.
But anyone who thought he was finished has been proved very wrong. The ultra-tough individual came back as good as ever in 1998. He started the season with a superb second to Silver Charm in the Dubai World Cup on dirt.
Two surprise defeats followed, in the Coronation Cup and the Hardwicke Stakes. But Frankie Dettori stayed faithful to him in the King George, and he repaid that faith by winning the race again from Derby winner High-Rise and Breeders' Cup Turf favourite Royal Anthem.
Swain showed he was still in good nick by winning yet another Group One prize, the Irish Champion Stakes at Leopardstown
His last target was the Breeders Cup Classic at Hollywood park before retirement. He worked over five furlongs at Churchill Downs on the Friday, and pleased connections.
Godolphin assistant trainer Tom Albertrani said: " I was pleased with him. It was exactly what we wanted. He passed his companion and finished well. "He did all his serious work before he left Newmarket. We just wanted him to get a feel of the track and he handled it well."
Godolphins' expectations were upheld in the Classic. Once the race started the pair were always well placed. Swain angled to the outside on the home turn to prepare for a final stretch challenge. As he looked poised for another duel with Dubai World Cup conqueror Silver Charm, Dettori switched his whip to his left hand and, with his head down, delivered a barrage of blows. He was seen to strike Swain 12 times, sometimes out of rhythm with the horse.
Swain edged further and further across the track, and only when Dettori put his whip down did the horse start to run straight again. But the damage had been done and the race lost. On his return, Dettori threw his hands up and complained to Sheikh Mohammed: "I had the race won and then he saw the lights and then boom! We lost two lengths going across the track.
"The ride was good until he saw the lights in the last 100 yards and he veered right and it cost me the race. "He's not used to that kind of thing. When he hit the front, he saw those lights on the left. I was only beaten just over three-quarters of a length and it cost me two lengths."
At that point, Sheikh Mohammed seemed to accept Dettori's assertion and claimed Swain, who now retires to stud in Kentucky, was the moral victor. "He was the best horse on the day," said the Sheikh. He was one of of the best winners we've had and certainly the best horse here."
Bin Suroor reaffirmed his faith in Dettori as Godolphin's jockey. He said: "Frankie is our jockey. We like him, we love him. We need him to stay at the top all of the time. All the people watching the race there and on TV all over the world know he made a mistake. But that happens in a race.
"At the same time I understand Frankie can't do everything right all the time. This is racing. This was our best chance. It is very hard to find a horse like Swain and he was coming from behind to win. I am really sorry for Frankie. Swain has won two King Georges, a Coronation Cup, Irish Champion Stakes, second in the World Cup. He can handle any ground and surface. He was a brilliant horse. I am not upset. I understand in racing you can't win all the time. But I wish we'd done something better."
In January 2000 it was announced that Swain had sired his first foal since retiring to Shadwell Stud over a year ago. The colt foal was born to the Nureyev mare Bressay on January 5. Swain commands a mating fee of £29,000.